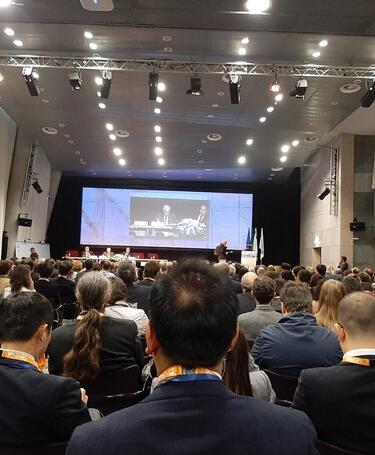 Digital focus at 2019's EOQ Congress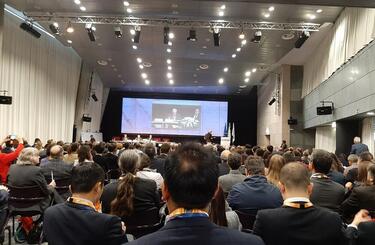 Published: 30 Oct 2019
Vincent Desmond, CEO at the CQI, discusses the highlights from this year's European Organisation for Quality Congress (EOQ).
Last week, I represented the CQI at the 63rd EOQ Congress in Lisbon, along with CQI Fellow, David Hutchins. In its normal fashion, the EOQ brought together quality professionals from Europe, but also all corners of the globe to discuss digital technology, trends and systems that are changing the world of quality management.
Here are some of my reflections from the event:
A 20+ year hiatus in developing quality management practice
An interesting paper by Xiaojing Sun of Shandong University in China found that there has been a sharp drop in the volume of published papers from global academia on quality management topics since the turn of the century. Other speakers on past, present and future themes also noted that their quality management timelines had seen little change in practice since the heyday of Lean Six Sigma.
Have we run out of ideas? Are we waiting for the next quality guru messiah? No. My reading is that the world has been pretty stable during the past 30 years, and no new principles, methods or tools have been required. However, this is all changing.
Industry 4.0 – the end of the world as we know it?
With about a quarter of the presentations directly on the topic, the digital agenda is firmly on the minds of profession, and the need for change is now established. When you hear people saying things like, "Deming was a man of his time ­– we live in different times; we need to move on", you know that change is in the wind.
So much data and no statistics
One of the most profound papers was from Benedikt Sommerhoff at the DGQ (German Quality Association). He characterised the current state of quality management as allowing too many failures, being "overruled" by standards, and being "hyperformalised" in a world that requires agile processes to deliver and improve value with (not just, for) the customer. One of his soundbites I enjoyed was, "Rules are for sinners: the good abide by values".
His thesis extended to propose that the profession has moved away from data analysis and towards textual analysis (ISO standards) so much that we have lost our statistical competence and nous – a poor state of affairs as we enter the world of big data and analytics.
Joseph DeFeo of the Juran Institute in the USA made a similar point, remarking that a worrying majority of quality professionals are statistically illiterate and have a worrying lack of knowledge of quality science, in his view.
Quality assurance is the computer's business
A number of speakers predicted that the trend for quality activity to be moved into operations will continue, driven to the next level by industry 4.0. One example given was movement by the US Food and Drug Administration to replace regulatory audit with real time access to data. Similarly, as responsibility for quality control has passed into the business (or should have), quality assurance will be moved into digital process automation, leaving smaller quality management teams that will need to:
Left shift - Focus on prevention through design and planning of digital systems
Agile shift - rebalance the focus on the rules-based system to creat agile processes that support transformation at pace
Strategy shift - Focus on strategic quality management not the tactics of control and assurance.
Culture shift - understand that organisations will remain deeply human in purpose and operation, despite the advantages of technological tools, and quality culture will drive the right decisions at all levels
Problem solving shift - focus on the use of data and artificial intelligence (AI) to solve complex problems and chase down opportunities at pace
Customer shift - focus away from contract review to how we co-create value with customers.
Customer 4.0
The customer has been too often ignored in breathless talk of industry 4.0 and the potential of tools and techniques. But the customer is making a comeback. A number of speakers reminded us that, as disruptive as technology may be, it is a tool for creating value.
Mohamed Zairi was one of those who waved the flag for the customer, with the natty phrase: 'customer 4.0'. Zairi's proposition is that, if we have 100 per cent quality and zero defects as a result of industry 4.0 (a big if), we are left with competitive advantage becoming the value and personalisation of experience, not standardised product or service quality. With that said, is it then time for the profession to start working closely with our Chief Marketing Officers?
Quality Professional Competence
Having considered the positioning of the quality profession, some limited debate was had on what new competences are required. These varied from the view that all quality professionals need to know how to code (I don't agree) and understand the principles of data science, in order to adapt methods, tools and be able to help organisations translate technology into value. Getting this bottomed out is the next step.
East Meets West
A good improvement to the EOQ conference this time was the global section, which provided an opportunity to understand what is going on in other regional quality associations, from America to Asia. The quality and quantity of papers and thinking from Asia has grown and, I would argue, is eclipsing the 'old world'.
A paper from David Hutchins bridged both worlds, proposing that what the world needs now is a hybrid of the Japanese TQM approach with the Western approach of having dedicated quality leadership to act as the conscience, expert and focal point for the organisation in terms of quality strategy.
Well done to EOQ and APQ
The EOQ has recognised in its new tone, programme design and plans that the quality community is fragmented and that our focus on the old ways of doing things must change. I also congratulate the Portuguese Association for Quality (APQ) for putting on a good show as it celebrates its 50th year anniversary.
EOQ's 64th congress will be held in Belgrade, Serbia, on 16-17 June 2020.