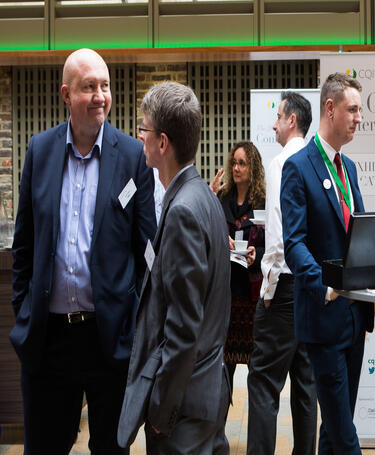 Start your career in quality
A world of fantastic career opportunities awaits you in the quality profession. And the CQI is here to support you all the way.
A career in quality means working to make organisations better.
Quality professionals work in all industries and all sectors, and they come in many guises. Some are generalists, some are specialists.
Many will have titles like quality manager, quality engineer, quality director or assurance manager, while others deal with quality as part of a broader remit.
Some are concerned with the delivery of products and services, while some are part of the leadership of an organisation. Some are employed in-house, while others work outside the organisations they deal with. It's a broad church.
What unites quality professionals is their dedication to protecting and strengthening their organisations by making sure that stakeholders' needs are met – and ideally, that their expectations are exceeded. (Read more about the quality profession here).
At a strategic level, they're involved with making sure the organisation translates its objectives into outcomes (we refer to this part as governance).
They're also focused on increasing efficiency, reducing risk, dealing with compliance, solving problems and employing process improvement tools such as Six Sigma (we refer to these parts as assurance and improvement).
The CQI (Chartered Quality Institute) is the only chartered body dedicated to quality professionals. Our chartered members get to use the title of Chartered Quality Professional – the gold standard for professionalism in quality.
IRCA (International Register of Certificated Auditors) is a division of the CQI, and is the leading professional body for management system auditors.
There are many routes into a career in quality and many paths to follow. Traditionally, a lot of people moved into quality having started out in areas such as engineering or health and safety.
But today's quality profession attracts highly skilled practitioners at the start of their careers too. For this new generation, the appeal of a career in quality is the chance to work at improving all aspects of a business.
The CQI's training portfolio can help you take those first steps in acquiring the right skills and knowledge, and CQI membership is here to support you along every step of your career journey.
Why pursue a career in quality?
Take organisations from good to great
"Nothing is more exciting than trying to be smarter and better each time, considering the needs of management and stakeholders to transform an organisation from good to great."
Marijke Korteweg, European Medicines Agency
Move from sector to sector
"I moved seamlessly from the food to the pharmaceutical industry – ours is a truly transferable skillset."
Stephen Mitchell, GlaxoSmithKline
Find out what makes organisations tick (or stop ticking)
"You learn a huge amount about what works and what does not. The important thing is to be open-minded and to be prepared to learn even from failure."
Estelle Clark, Executive Director of Policy
Become a respected expert
"The quality role is the best role in any organisation. It is the only one, apart from the MD, where the scope includes the improvement of everything that is done. So you can work with everyone and, using your quality assurance skills, support them in achieving their goals."
Estelle Clark, Executive Director of Policy
Set up your own business
"I've been privileged to work with some of the largest, most complex and exciting organisations in the world. It has been great to have been able to build a business around helping organisations improve performance and achieve quality and operational excellence."
Professor John Oakland, Oakland Consulting
More information on quality careers
Quality Jobs
Join the CQI
The CQI is here to support you at every step of your career - join us today