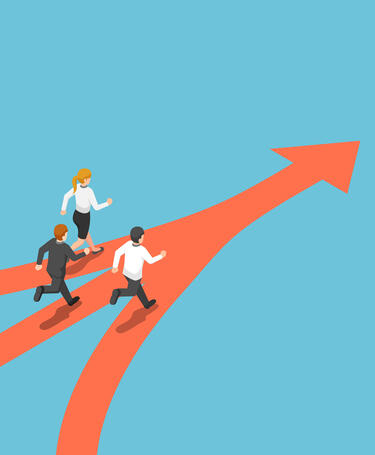 CPD guidance for IRCA auditors
Continuing professional development (CPD) is an important part of your career. It involves maintaining and improving upon your knowledge and skills in order to successfully undertake your role.  
Recording your CPD
IRCA asks that you record your CPD as evidence that you are maintaining the skills, knowledge and experience appropriate to your grade. IRCA members are required to submit a CPD log along with their other recertification documents on a five-year basis.
In order to make the most out of the CPD process, IRCA suggests that you follow a plan, do, check, act (PDCA) approach.
You can manage this process in the 'My Professional Development' section of the Members' Area of this website.
CPD activities
CPD can encompass a wide variety of learning activities. It is not limited to classroom-based courses, and it does not have to be specific to the scheme against which you audit. Any learning activity that supports your professional development is encouraged.
Examples of CPD activities:
Training courses, either classroom-based or online
Seminars and lectures, including webinars
Conferences and events
Active engagement in relevant professional networks and forums, such as IRCA's LinkedIn group 
Reading reports, journals, magazines, or online articles relevant to your industry or profession eg IRCA Knowledge emails, Quality World
Self-study
In our Members' Area, you can access online resources such as ISO reports, Knowledge articles and webinars. You can also access thousands of journals and industry publications in our eLibrary. All these resources can contribute to continuing your professional development.
Completing the CPD log
You should set your objectives at the start of each year and record your CPD as and when you undertake it. In your CPD log, you should include:
Your development plan (Plan phase)
You should identify your development objectives by considering
Changes in standards, regulations and legislation, industry, your profession
Your strengths and weakness
Any feedback you have received from colleagues, employer and clients
Organisation and client plans and requirements
IRCA strongly encourages all auditors to use the CQI Competency Framework
A list of the activities you have undertaken (Do phase)
This phase covers the learning and development activities you undertake in order to meet your objectives identified in the planning phase.
A summary of what you've learnt from each of your activities (Check phase)
In this phase you should write which objective your activity relates to and reflect on what you have learnt during the activity.
What happens next? (Act phase)
In this phase you must review whether this objective has highlighted other areas for development. This will help you to create your next CPD objective(s).
CPD - Plan, Do, Check, Act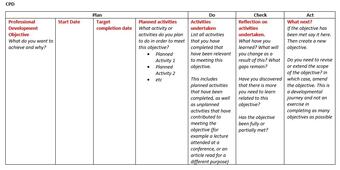 Additional CPD guidance
IRCA does not prescribe a minimum number of hours or activities, and we will consider all activities that are relevant to your profession and aimed at achieving your identified development objectives.
For guidance purposes you should consider devoting 10-15 hours of activity to your professional development each year.