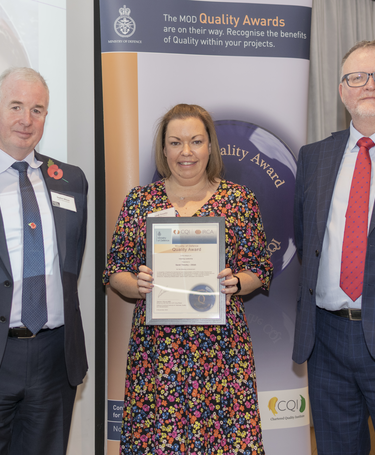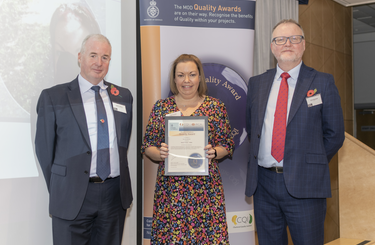 Published: 29 Nov 2022
The Ministry of Defence quality awards event, sponsored by the CQI, was held this month in Bristol and saw a record number of nominations received from the services and defence industries.
The first-ever international hybrid Ministry of Defence quality awards event was held on 8 November in Bristol. The awards, which reward and recognise those who have delivered significant business benefits and improvements through a quality approach, are sponsored by the Chartered Quality Institute (CQI).
This year, a new category for 'Supplier Excellence' was introduced and the event celebrated the inaugural graduation of six MOD quality development scheme candidates.
Led by Quality Assurance Manager, Craig Feltham, and compèred by Defence Quality Assurance Field Force East Regional Team Leader, David Moore, the theme of the event was sustainability, and included presentations from Vincent Desmond, CEO of the CQI, Richard Brett, Deputy Chair of the CQI Audit SIG (Special Interest Group), and Zoi Kontodimou, Chair of the CQI Sustainability SIG, who joined attendees virtually from Greece.
Additionally, Elaine Adams, Defence Equipment and Support (DE&S) Quality Manager, shared her inspiring story of winning a quality award last year. The audience also heard from the head of the DE&S NetZero50 team as well as the head of Future Capabilities Group who discussed additive manufacturing (3D printing).
Reflecting on the event, Stephen Wilcock (MOD Defence Functional Authority for Technical, Quality and Standardization) said: "I was delighted to see a record number of applications [40] and a record number of winners [28] for the 2022 MOD Quality Awards. The level of accomplishment across all five categories was exceptional and it's hugely encouraging to see that quality is front and centre across the whole of MOD and the real benefits of 'Planning for Quality' in your projects is bearing fruit."
Vincent Desmond, CQI CEO, commented: "The CQI has had a close association with the UK MOD and the defence sectors since our inception in 1919. We were delighted to support the MOD Quality Awards again this year and celebrate the good work being done in both the civil and military spheres."
There were a record number of nominations received from the services and defence industries. The 2022 winners included:
Best Improvement
Submarine Delivery Agency Central Quality Team
AWE (Atomic Weapons Establishment) – Explosives Technology Centre
AWE – Plutonium Tech Centre, Corrective and Preventive Actions & Cultural change
AWE – High Energy Digital Radiography team
Les Gibbons – Defence, Science and Technology Laboratory (DSTL)
Collective Training Group – Warminster Road
Flt Lt David Robinson – Centre of Air Safety Training, Shrivenham
Neil Morley – AWE
Rising Star
Sgt Kate Snelgrove, RAF (Royal Air Force) Odiham
Jamie Manders, AWE
Claire Brown, BAE Systems (British Aerospace), Samlesbury
Quality Ambassador
Margo Ramsey, RAF Odiham
Louise Ingman, AWE
RAF Brize Norton Continuing Airworthiness Management Organisation Quality Team
Andrew Marland, BAE Systems, Warton
Flt Sgt Mark Rowley, RAF Waddington
WO Craig Gifford-Browne, RAF High Wycombe
Frank Woodcock, RAF Linton on Ouse
Inspiring Leadership
Christine Heath – AWE
Mel Rechert – AWE
Nigel Williams – Defence Nuclear Organisation Warhead Division
Wing Commander Stephen Rowley, RAF High Wycombe
Sarah Timothy, DE&S
Joe Evans, DE&S
Stacey Hutton, RAF Coningsby
Supplier Excellence
Bronze – Project Orpheus Team, Rolls-Royce Bristol/DSTL Portsdown
Silver – Kish Chandarana, MBDA
Announcing the return of the International Quality Awards! Part of our brand-new event called Quality Live, launching in London on 15 June 2023.