Revised ISO 19011 moves closer to publication
The definitive guide to auditing management systems is scheduled to be published in the first quarter of 2018.
ISO 19011:2018 – Guidelines for auditing management systems, is expected to be published on 17 April 2018. The standard applies to organisations that need to conduct internal or external audits of managements systems. The changes cover principles of auditing, managing an audit programme, and evaluating the competence of auditors.
ISO Project Committee 302 met in Mexico City for the final meeting in November 2017. The key outcomes from the conference include:
New seventh principle of audit which uses a risk-based approach when planning, conducting and reporting audits.
'Audit evidence' will now be 'objective evidence'. It will be 'information that can be subject to some degree of verification', no longer 'information that can be verified'.
Significant expansion of the new Annex A to include topics such as the verification of information, use of professional judgement, focus on performance outcomes, impact of audit of product/service life cycles, supply-chain auditing, and auditing leadership and commitment.
Quality World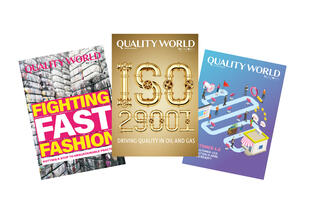 Get the latest news, interviews and features on quality in our industry leading magazine.