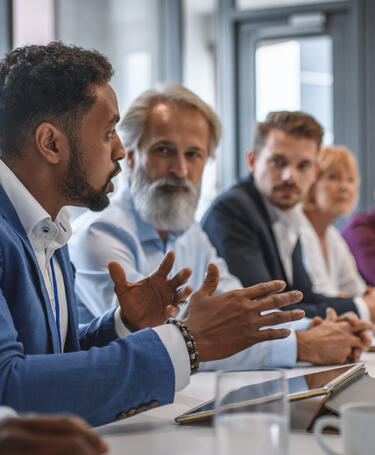 The Standards Coordination Committee members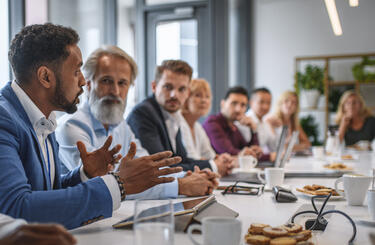 The Standards Coordination Committee is comprised of standards users, makers, thought leaders and management systems experts drawn from a variety of backgrounds and industries. 
The CQI Standards Coordination Committee exists to coordinate strategy and direct the CQI's sponsored standards activity. This includes determining those standards which are of importance to the CQI, directing and coordinating participation in their development, and recommending the development of products, services, and assets relating to the use of international standards. The scope of the Committee's activity encompasses quality and other related management systems standards, and management systems audit standards which are of strategic or operational importance to CQI, including those for which the CQI has products, services, or assets.
Committee members
John Abson
John's global career spanned over 45 years in high precision engineering, with a particular focus on quality management, manufacturing and business processes, working with automotive and other industry segments.
Before retiring, John was Group Quality and Business Processes Manager for the SKF Group, responsible for the global development of their approach to process-based quality management systems. Prior to this, he held various positions in quality, automotive engineering, production management, manufacturing process development, measuring systems development and project management.
John sees particular value in the deployment of management systems, embedding them into the organisation's processes and daily work. In the last few years, he has run global development programmes for up-and-coming quality managers, focusing on the theme of Leadership for Quality in a cross-cultural international environment.
Dr John Bullivant CQP FCQI, FRCPE, FRSM
A seasoned fellow (CQP FCQI), John has been contributing to the CQI for many years. His expertise have helped to develop the CQI's body of knowledge, and as a valued volunteer, John has twice chaired a CQI special interest group (SIG) and is currently a CQI mentor.
John is a former VFM auditor, NHS board director, visiting fellow at the OU Business School and has recently been elected a fellow of the Royal College of Physicians of Edinburgh (RCP Edin). He has also worked in local government, probation, central government, audit commission, universities and the consultancies OPM and GGI.
He was a member of the Health Minister's National Advisory Board in Wales, president of the quality network of the Royal Society of Medicine, a peer reviewer for Healthcare Inspectorate Wales, board secretary to the all-industry Benchmarking Institute and an advisor to a number of business and professional organisations. Currently, John is developing a suite of e-learning modules on quality in governance.
Richard Green CQP FCQI
Richard is the owner and Managing Director of Kingsford Consultancy Services Ltd, an organisation which provides bespoke ISO management systems consultancy, training, implementation, and transition related services both within the UK and internationally.
He has over 30 years' experience in the world of management systems standards, initially as an end user in the manufacturing and service sectors, and latterly as a standards developer. He is a time-served BSI and ISO committee member, and has contributed to the latest editions of the ISO 9000 series, ISO 27000 series, ISO 45000 series, 17021-X series, as well as ISO 19011.
During his career Richard has held a variety of senior quality management, facilities management, contract management and IT service management positions, in both the UK public and private sectors. Prior to establishing Kingsford Consultancy Services Limited, Richard worked at the CQI, initially as a Technical Manager with IRCA, and then as the Head of Professional Networks. Richard is also a Principal QMS Auditor, an ISMS Lead Auditor, a Medical Devices Lead Auditor, a Fellow of the Chartered Quality Institute, a Chartered Quality Professional, a Chartered IT Professional and a PRINCE2 project management practitioner.
Zukiswa Raditladi
Zukiswa Raditladi is the Quality Manager at Botswana Medicines Regulatory Authority. Ms. Raditladi joined BoMRA in October 2018, where she has established the quality management system, ensured its implementation and had it certified against ISO 9001. Prior to that, she worked for a national standards body for ten years where she was responsible for the development of national standards in the area of water and environmental management. During those ten years, she also conducted ISO 9001 third party audits and assessments of labs against ISO/IEC 17025 and of inspection bodies against ISO/IEC 17020.
Ms. Raditladi is an ISO/IEC 17020 Technical Assessor, and she is a member of the Advisory Committee of the SADC Inspection Bodies Accreditation Scheme. She is also Co-Chairperson of the SADC QMS Technical Working Group.
Ms. Raditladi has a Master of Philosophy in Analytical Chemistry, a Bachelor of Science Degree in Single Major Chemistry and has attended various management systems trainings. She brings a wealth of experience from research sector, standardization and regulatory environments.
Simon Waite
Simon Waite is a Quality, Health, Safety & Environmental professional with over 20 years of experience primarily in industries related to consultancy, construction, civil engineering, and rail. He is currently leader of the Management Systems Team (Health, Safety, Environmental, Quality and Business Process) for Arup in the UKIMEA region.
Simon first became interested in quality management and business process whilst in the role as Safety Manager for a large principal contractor. After further training and gaining chartered status with CQI over ten years ago, Simon has worked as a Lead Auditor for a third-party certification body, and more recently as an internally facing management systems professional. He hopes to bring a practical and open approach whilst working with the committee.
Kate Armitage
Kate Armitage has over 20 years of GRC experience working for organisations in highly regulated industries such as the NHS, pharma, and Finance. She is currently Compliance Director EMEA and APAC for a US based SaaS provider, OneStream.
Throughout her career Kate has developed a working knowledge of some of the most commonly utilised standards such as ISO 9001, 27001 and 45001. As a BSI Committee Member of QS1 and HS1, she has most recently been involved in the development of ISO 45003.
Kate is keen to promote the energetic and dynamic side of Quality and Information Security Management, the importance of a holistic approach to this and the key roles Culture and Leadership have in the governance environment.
What is a standard?
Find out about standards and the CQI's role in the development of standards.