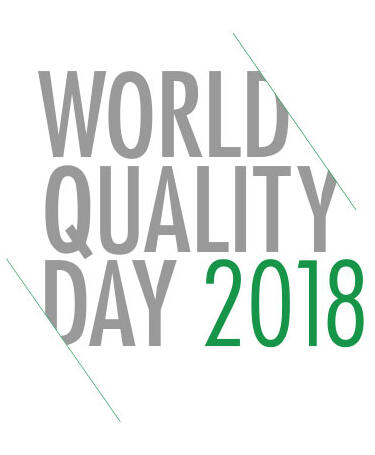 World Quality day 2018
Quality: A question of trust
Reputations are built on trust. Trust is a hard-earned commodity, yet one which can be squandered in a moment. Therefore, in 2018, we are celebrating the role that everyone in an organisation plays in building and sustaining trust for all stakeholders: customers, suppliers, staff, regulators, shareholders and society.
Hardly a day goes by without reading about quality failure and its impact on the customers and stakeholders of organisations: Grenfell, Facebook, Kobe Steel and BMW to name a few. These stories beg two questions. Firstly, about organisational competence and secondly, about organisational integrity.

The quality management profession is about helping organisations put in place competent systems to ensure that the activity of an organisation consistently delivers on its promises to customers and stakeholders, an assurance framework to help the organisations understand operational risk, and an improvement framework to mitigate it and improve.
These systems of governance, assurance and improvement combined with your culture of quality are your investment in trust and reputation. The quality profession is your business partner in enhancing trust in your organisation.
Chartered Quality Professionals are the people who support and develop quality competence and culture using their unique view across the organisation and its stakeholders, and their unique skills in establishing systems of operational governance, assurance and improvement.
World Quality Day (#WQD18) is your opportunity to celebrate the achievements of your team and organisation, and recognise those that uphold trust to sustain and improve performance every day of the year.
How will you celebrate World Quality Day 2018?
We hope the WQD 2018 theme resonates with you, but we recognise that your organisation may chose a different quality management focus to reflect your business context. Whatever you focus on, we would love to hear about how you will engage with your colleagues on World Quality Day.
You can tweet us using the hashtag #WQD18
How do quality professionals build 'trust'?
The quality profession plays a unique role in ensuring that stakeholder trust is earned and maintained. We do this through:
Context – Helping organisations ensure they understand their customer and wider stakeholder needs and expectations

Leadership – Helping organisations align values and culture to account for these expectations

Operational Governance – Facilitating the management systems to help organisations consistently make the right decisions for customers, stakeholders and the organisation

Assurance – Helping organisations understand performance and identify the risks to trust and reputation

Business Improvement – Helping organisations invest in the right improvements to improve performance and trust.
What is World Quality Day?
Many individuals and organisations use World Quality Day as an opportunity to act as quality advocates. In 2017, thousands of individuals and organisations across the globe hosted activities around the theme of 'everyday leadership'.
Help us make 2018 a success. By honouring the quality profession on 8 November 2018, you help to raise the profile of the brilliant work you do all year round, and highlight the positive impact of quality on organisations.
World Quality Day is celebrated annually on the second Thursday in November
Support World Quality Day 2018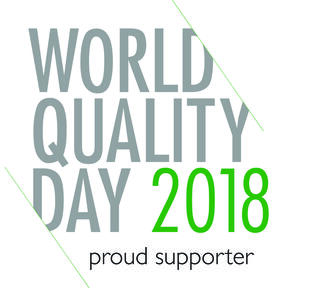 World Quality Day is your opportunity to celebrate the achievements of your team and organisation. Show your appreciation for quality by using our toolkit.