Volunteers at the heart of the CQI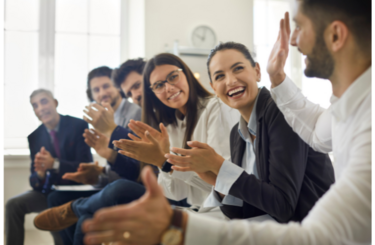 Published:
Caroline Whitson, the CQI's Professional Networks Manager, reflects on the immense contributions that our CQI volunteers have made over the past year, and looks at all the volunteering opportunities available at the CQI as we celebrate National Volunteers' Week from 1-7 June.
Have you ever attended a CQI webinar? If so, it's quite likely that it was organised and hosted by, or presented by, a CQI volunteer. The volunteers that support us are integral to the professional development we provide for our members. They're our expert voice covering regions, industries, and specialist topics.
We are very proud of our volunteers and have 372 members volunteering for us across a variety of roles.
Providing professional development
I am continually inspired by the breadth of topics covered by our volunteers and the sheer enthusiasm and expertise they have on those topics. Each volunteer brings their own take on subjects and this diversity of knowledge and thinking is truly what makes the networks the success that they are.
If you require professional development in a particular industry or topic, our Special Interest Groups are the go-to place to support you along your career journey. If you can't find a group in your industry or specialism, please get in touch and we can discuss what we can set up if there are enough interested members to support the group.
Our Special Interest Groups create knowledge articles, run webinars, and publish guidance on what you need to know to be successful in their field. They also provide a network of people to learn from and share skills and tools to elevate quality across businesses.
Post-pandemic return
If you are looking to meet other quality professions in your local area, the regions and branches are the place for you. Our branches hold a huge variety of webinars, and now that we are entering into the post-Covid era, face-to-face events and site visits are returning. I believe through the pandemic we forgot how valuable networking in person can be and I encourage you to attend an event in person if you can, to connect and engage with others in the profession.
Volunteers broadening the scope of the profession
We also understand the importance of broadening the scope of the quality profession, and we are working with our volunteer networks and opportunities to support this. Some of our members volunteer as STEM ambassadors, going into local schools and running workshops on what quality is and how you can follow a career in it. We also have members acting as school governors across the country, using their quality training to ensure the good governance of their local schools. So there really is something for everyone when it comes to volunteering here at the CQI.
Volunteering opportunities
Over the past three years there has been a shift in the way that people are using their time, and spare time seems even more valuable than it was in the past. We understand this and want to make volunteering as flexible as possible to give everyone the chance to contribute and enjoy the benefits that it offers. If you don't have much time but would still like to get involved, there are short projects that our networks need support with, opportunities to speak at events and many ways to use your expertise within the time that you have to offer. In return you get to be part of an amazing network of professionals and get to input into the future direction of your profession.
A huge thank you to all of the CQI volunteers who make all of this happen and provide our members with added support in their careers and professional development. We really couldn't add the level of value to membership without you.