World Standards Day 2022: Supporting the journey to a better world
Standards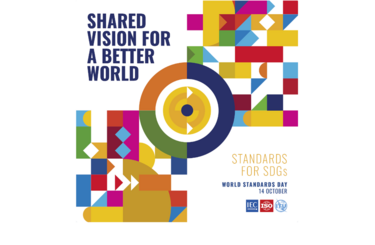 Author: Alexander Woods
Policy Manager, CQI
Published:
This World Standards Day, the focus is on a shared vision for a better world. Here, the CQI's Policy Manager, Alexander Woods, looks at how standards can support the journey to a better and fairer world, and examines the changes required for standards to continue play this vital role.
World Standards Day, 14 October, is an opportunity to shine a light on, celebrate, and consider the value of standards and the role they play. For the International Standards Organization (ISO), it is about a 'shared vision for a better world'. There are many examples of how standards are used to further this vision.
International standards facilitate achieving goals
Standards are one of the key tools in tackling the United Nations Sustainable Development Goals. Addressing social imbalances, developing a sustainable economy, and slowing the rate of climate change – doing the right thing for people and planet – are bold and necessary ambitions. Achieving them requires universal cooperation between interested parties.
It feels as though quality standards may be approaching a tipping point as the pace of change in business, society, and technology shows no signs of slowing down.
International standards are vital tools in facilitating this cooperation. They provide a universal language, framework, and guidance for organisations regardless of location or industry. They also provide a consistent and achievable benchmark for good practice in almost every sector, discipline, and technology. But in this need for a standard to be 'most things to most people' lies a serious challenge.
Standards depend on consensus and collaboration to determine a consistent benchmark for what 'good' looks like. Their development involves experts coming together to discuss the potential contents of the standard, and reaching consensus on the contents. Of course, this is a simplification of the process, which can take years to complete. Achieving consensus among a diverse range of stakeholders with different interests and priorities, across multiple languages and cultures, is a challenging task, but it is at the absolute core of standards development.
Can standards keep up with the pace of change?
It feels as though quality standards may be approaching a tipping point as the pace of change in business, society, and technology shows no signs of slowing down. Can the established processes for developing standards keep pace with this rate of change? If not, they risk becoming a barrier to innovation and improvement, or proving out-of-date by the time they are published.
Furthermore, the needs and expectations of interested parties are shifting. Organisations are increasingly expected to take societal expectations, the environment, and sustainability seriously, and to take responsibility for the impact of their processes, products and services on people and planet.
A call for change
Standards makers need to consider "who" is involved in the development process. In a situation where assurance is provided through real-time data in automated, intelligent systems; data scientists, as well as 'traditional' quality assurance professionals or auditors, have a necessary and urgent role to play in developing quality standards. Diversification of those involved in defining, delivering, and managing standards for quality may well be necessary if they are to remain relevant and of value.
The CQI's role in the development of standards
The CQI has a strong reputation as a standards maker, and the CQI's Standards Coordination Committee coordinates and directs this activity. We are a Category A Liaison organisation to those ISO committees responsible for standards in quality, management systems audit, occupational health and safety, information security, and food safety. This means that the CQI makes a direct and effective contribution to the work of the ISO technical committees. The CQI's Standards Coordination Committee comprises of volunteers drawn from the CQI and IRCA membership, as well as representatives from the CQI executive.
As an active participant in these and other international and national standards bodies, the CQI has a unique opportunity to represent the needs and expectations of CQI and IRCA members, Special Interest Groups, and partners. We also draw on the findings of our leading research into the future of work, digitally transformed quality, and the changing nature of assurance.
This will become of particular relevance when we come to revising ISO's 'flagship' standard, ISO 9001: 2015 Quality management systems – requirements.
ISO 9001
The decision to confirm, rather than revise, ISO 9001:2015 was a disappointment to those who have concluded that change is needed if the standard is to provide a framework for systems for managing quality, which is fit for a digitally transformed world, and delivers value to all interested parties.
As well as providing effective requirements for systemic governance, assurance, and improvement, ISO 9001 should:
require organisations to set clarity of mission, purpose, and the impact of its system for managing quality on interested parties;
promote a systemic management of quality which is readily integrated with organisations systems of management;
be compatible with ethical and societal expectations of the role and practice of organizations;
reflect, support, and encourage best practice in line with changes in where, when and how people work.
Most importantly, it must be current, allowing for the application and exploitation of modern technologies, and enable and encourage innovation in business and quality practices, and in the exploitation of novel and emerging technologies and practices.
Building a better, fairer and more sustainable world, doing the right thing for people and the planet, is only possible through collaboration, and through exploiting the opportunities presented by new tools, techniques and practices. Standards have long proved their ability to do the former; we must ensure they continue to facilitate the latter.
Get in touch
If you are currently involved in standards making or would like to know more about the activity of the CQI Standards Coordination Committee, please contact [email protected].