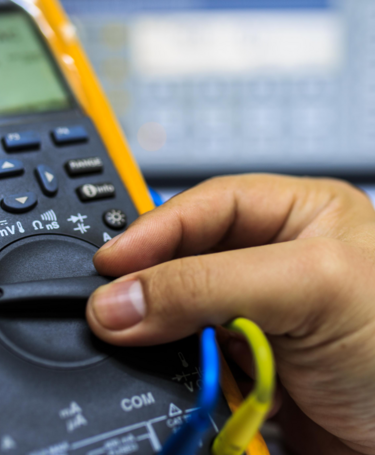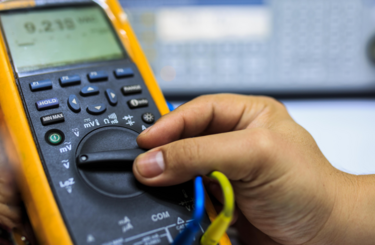 Published: 13 Jun 2022
It's critical to maintain the measurement accuracy of test instruments if they are to work properly, explains Steve Winder, Service Sales Manager at Calibrationhouse,  which provides UKAS accredited calibration services for all types of of electronic equipment. 
The calibration of test and measuring instrumentation is vital in ensuring that manufactured equipment, used across whole swathes of healthcare, manufacturing and workplace applications, continues to meet their published performance specification.
Accurate measurement is the base factor in all industrial processes and systems and is essential to the delivery of high-quality products and services. For instrumentation, the only means of checking the reliability of equipment used to monitor, measure or test electrical or electronic equipment or installations is to calibrate them regularly.
Calibration is the process of comparing a measured value to a known reference value. Valid traceability of calibration to national and international standards is important to ensure compatibility with approvals processes and quality standards such as ISO 9001:2015 Quality management systems – Requirements and ISO 9002:2016 Quality management systems – Guidelines for the application of ISO 9001:2015.
The importance of accurate calibration of all instruments cannot be underestimated in ensuring that contractors continue to provide an acceptable service.
Traceability on the other hand, is a declaration stating to which national and international standards a certain instrument has been compared. Measurement devices form a kind of hierarchy, with international and national standards on the top.
Establish traceability
A calibration laboratory needs to establish traceability of its own measuring standards and measuring instruments to the international system of units [SI], by means of an unbroken chain of calibrations or comparisons linking them to primary standards. Traceability of measurement can also be established to a consensus standard agreed by all users where it is not strictly based on SI units but may be derived as a ratio or by definition.
Compliance with the ISO 9001 and ISO 9002 quality management system requires that measurements are traceable to national standards where necessary and that the uncertainty of these measurements is known at a level that provides assurance all processes are under control and products will perform and conform within specified requirements.
Calibration certificates provide evidence that companies are undertaking appropriate calibration of instruments to justify their declared quality assurance level.
A calibration is incomplete without a statement of the measurement uncertainty. ISO/IEC 17025:2017 General requirements for the competence of testing and calibration laboratories requires that measurement uncertainties shall be shown on all calibration certificates as calculated by internationally agreed methods. Certificates must also show traceability to national standards, as well as an indication of the test used, the products tested and the test method employed.
ISO/IEC 17025 specifies the general requirements for the competence to carry out tests and/or calibrations, and covers testing and calibration performed using standard methods, non-standard methods, and laboratory-developed methods. It is applicable to all organisations performing tests and/or calibrations, which include, for example, first, second and third-party laboratories, and those laboratories where testing and/or calibration forms part of inspection and product certification.
In the UK, UKAS is the national body recognised by government for the accreditation of calibration and testing laboratories. Certificates issued by UKAS-accredited calibration houses display the UKAS logo and are accepted by assessors as traceable to national standards.
However, where calibration to manufacturer's specification is sufficient, calibration can be carried out in 'non-UKAS accredited' laboratories, which may still meet the requirements of ISO/IEC 17025, but has not been formally accredited by UKAS.
These BSI accredited calibration facilities provide systems and processes that are traceable to national standards and generally use individual instruments or equipment that have been verified by UKAS, to enable valid calibration certificates to be issued.
Calibration to a manufacturer's specification is the most common request and is the minimum calibration requirement necessary to ensure that the equipment is operating correctly and within the limits of the manufacturer's published performance specification.
Accredited certificate of calibration
The actual requirement for an accredited certificate of calibration for all test equipment will depend on the level of assurance the equipment's output reflects on the processes and products of the company – the importance of the product's fitness for purpose.
Quality and health and safety issues drive the demand for calibration services. The type of instrument and its intended application will also determine the frequency of calibration. More heavily used test instruments clearly need to be checked for accuracy more frequently than others that may have more specialist and therefore restricted usage patterns.
In general, calibration of most test instruments is usually recommended on an annual basis. For example, for 16th edition electrical installation testers and similar equipment, checkboxes are available to provide a simple and effective means of ensuring the in-service accuracy of instruments between formal calibration periods.
Instruments requiring calibration by a UKAS-accredited laboratory are normally the most important items of test equipment used for establishing traceability of measurements of the user's product or service. However, for most forms of test instrumentation, calibration to manufacturers' specification is usually acceptable.
The importance of accurate calibration of all instruments cannot be underestimated in ensuring that contractors continue to provide an acceptable service. Any lack of control or knowledge within the calibration arena not only has a consequent adverse effect on the quality of service provided, but could ultimately lead to a failure to meet regulatory requirements, including health and safety regulations.
The CQI and IRCA have developed a new training course scheme for medical devices and the EU MDR (Medical Device Regulation) regulatory requirement.