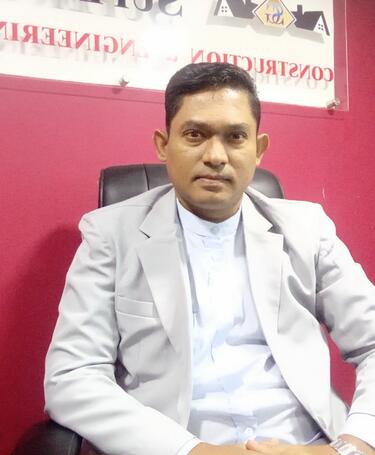 Using ISO 9001:2015 to raise quality in Myanmar's construction sector
Published: 4 Jan 2022
A study into the potential risks being taken by construction businesses in Myanmar demonstrates how they could improve quality and performance by implementing quality management systems.  
The past decade has seen a major increase in the number of construction projects in Myanmar (known until 1989 as Burma).
Schemes have included residential and industrial buildings, high-end condominiums, commercial complexes and major infrastructure developments.
However, the proportion of construction organisations embracing ISO 9001:2015 quality management systems (QMS) in Myanmar is far lower than in other parts of the world. For example, up to 2018, just 180 companies in Myanmar had signed up to ISO 9001.
Thu Ya Mon, IRCA registered Lead Auditor and Managing Director of IQC Global Engineering Myanmar Co. Ltd, set out to address these issues in research he carried out for the Faculty of Engineering at Lincoln University College, Malaysia.
Each one of the 10 risks could be alleviated with the implementation of ISO 9001 practices.
His project identified the potential risks being taken by those Myanmar construction companies that had not yet attained ISO 9001:2015 certification. It examined the most common risks experienced during the construction process and how businesses could mitigate these risks by following the principles of ISO 9001.
Top 10 risks
Thu Ya Mon selected 10 local construction companies, which were involved in different types of construction across the country and which did not have ISO 9001:2015. Using interviews with those in roles such as project engineer, architect, owner or contractor, he identified the 10 main risks (and their sources) at construction sites.
These were:
incomplete design provision
inaccurate completion schedule
poor workmanship competency
low awareness of safety precautions
incorrect construction methods
errors when estimating project costs
lack of quality assurance/quality control
poor documentation
non-compliance with regulatory and statutory requirements
unexpected events – such as accidents and changes in legal policy.
Using a risk-based scoring system that he devised, Thu Ya Mon created a matrix that ranked the severity of each of the 10 risks against the probability of the risk occurring. He ranked each risk to indicate which one construction management teams should address first. (See table 3 in Thu Ya Mon's paper.)
He highlights two important factors connected to this. First, that attributing values to risk criteria varies according to the type and structure of different organisations. Second, that risk tolerances can change depending on the environment, the attitude of the workforce, and the organisation's values and goals.
Mitigation with ISO 9001
According to Thu Ya Mon, the companies he studied made their risks worse by not having a QMS. As a result, no quality polices, strategies or documentation were in place to prevent these risks, which hindered overall performance improvement.
Each of the 10 risks could be alleviated by implementing ISO 9001 practices, he says. For example:
Clauses 5.2.1 and 6.2.2d determine the resources needed to achieve expected results. They help define the time for a given construction project and the date of completion, reducing the risk of having an inaccurate completion schedule.
Clause 7.1.2 focuses on the organisation's need to determine, and provide the people and resources necessary for, effective implementation of its QMS. Together with clause 7.2, these can mitigate the risk of poor workforce competency.
Clause 8.2 is about requirements for products and services, including data collection, determining needs, and reviewing and changing requirements. This can help companies eliminate errors when estimating project costs.
Implementing ISO 9001 principles would lead to a number of benefits for Myanmar's construction businesses, says Thu Ya Mon. These include:
allowing companies to meet appropriate statutory and regulatory requirements
increasing their capability to address risks and control them in advance
developing a business that understands the importance of responsibility, authority and accountability, and the usefulness of well-documented information
improving communication and transparency
facilitating continued success and improvement.
The study also highlights several reasons why Myanmar construction companies fail to embrace QMS. These include: a general resistance to change, both through lack of resources and the attitude of top management; the high cost of implementing and managing QMS; loss of productivity during the adoption process; a resistance to the increased administration required; poor commitment from top management because of concerns about cost and time; and a lack of competent staff to implement the standard.
Raising quality norms
Thu Ya Mon argues that, considering the severe consequences of construction projects falling short on quality – including endangering life and reputational damage – any project in the sector should be designed with risk-based thinking at its core. Representatives of the auditing and quality community have a duty to emphasise the importance of implementing quality management systems as the key to mitigating risks, improving safety, and driving continuous improvement in performance.
He stresses that Myanmar's construction companies have much to gain from implementing ISO 9001. It would raise quality norms across the industry and smooth the way for the adoption of further standards, such as EMS (ISO14001: 2015) and OHSMS (ISO 45001: 2018).