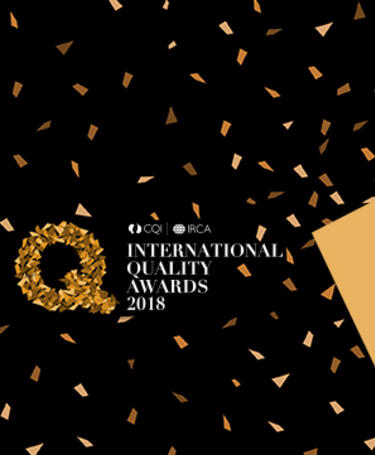 CQI announces the winners of the 2018 International Quality Awards
Published: 22 Nov 2018
We are thrilled to announce the winners of the second International Quality Awards, in association with our proud headline partner SAI Global.
The 2018 International Quality Awards recognises outstanding work within the quality profession. The success of last year's inaugural Awards led to the number of categories being expanded from six to nine. The inspiring 2018 winners work across a range of industries and contribute to enhancing the reputations of organisations in North America, Europe, the Middle East, Asia and Australia.
Vincent Desmond, CEO of the CQI, said: "We live in a global economy with global supply chains and markets. The quality profession is therefore global in outlook and reach and so it is pleasing that this second year sees an even more international feel to the entries, finalists and winners."
Congratulations to the 2018 winners – they are…
1. Emerging Talent Award (in association with NQA)
Khar Voen (Carmen) Chin, PCQI, Alstom Hong Kong Limited, Hong Kong S.A.R., China
Carmen, Project Quality Engineer at Alstom, won for her role in improving supplier training and audits to ensure the safety of passengers who use Hong Kong's railway network.
2. Innovation through Quality Method (in association with PMI)
The Register of Enterprises of the Republic of Latvia
Entered by Marika Jancenko, Quality Management Expert
The Register of Enterprises of the Republic of Latvia won for implementing UNA, the first virtual assistant of its kind in Latvia's public administration services.
3. IRCA Certificated Auditor of the Year
Arlene Ollano-Aguilar, IRCA Lead Auditor, Qatar
Arlene won for her diligent work on auditing high-profile projects in Qatar, including the Dukhan Highway and the New Doha International Airport.
4. Quality Professional in a New Project
Richard Hawke, CQP MCQI, Amway Corporation, United States
Richard, Principal Engineer at Amway, won for creating a quality system to vet foreign suppliers under a new, rigorous food safety regulation set by the US Food and Drug Administration.
5. Leadership Award (in association with Siemens)
Howard Cooper, CQP MCQI, Jacobs, United Kingdom
Howard, Head of Quality for the Jacobs Aerospace, Technology and Nuclear International Business Unit, won for developing an integrated system that drives both the business strategy and quality strategy.
6. Quality Professional of the Year (in association with Shirley Parsons)
Charlie Versi, CQP MCQI, Buildcorp Group Pty Ltd, Australia
Charlie, National Quality Manager at Buildcorp Group, won for implementing an innovative quality management programme that has helped deliver defect-free construction projects.
7. Quality Team of the Year (in association with Nuvia)
Business Improvement Team, Costain, United Kingdom
Entered by David Sanders, Business Improvement Manager
Costain's Business Improvement Team won for raising the profile of quality by developing a new suite of management systems for the company's technology and consultancy services.
Pathology Service, Hull and East Yorkshire Hospitals NHS Trust, United Kingdom
Entered by Ernesto Jr Quider, Pathology Quality Manager
The Pathology team won for providing a high level of clinical and scientific services by creating a culture of transparency and pursuing continuous improvement.
8. Quality Organisation of the Year (in association with Catalyst Consulting)
Hiab AB, Sweden
Hiab won this award for its sophisticated approach to strengthening its quality function, which resulted in a rise in order intake, profit and customer satisfaction.
9. CQI Honorary Award
Dr Nigel Croft, CQP FCQI
Nigel won this award for decades of contributing to the evolution of the ISO 9000 family – the world's most popular set of quality management standards.
Donald M. Berwick, MD
Donald won this award for his life's work on advancing paediatrics and healthcare policy in the US and forming new care models for the UK's NHS trusts.
Notes for Editors:
About The CQI
The CQI is the global chartered body for quality professionals. We improve the performance of organisations by developing their capability in quality management. We define and lead the quality profession, setting the standards for its capability and scope through the CQI Competency Framework. We encompass the whole quality community, including quality management professionals and management systems auditors.
The International Register of Certificated Auditors (IRCA) is a globally renowned register of more than 11,000 quality auditors. IRCA, a division of the CQI, is the leading professional body for management system auditors. IRCA Certificated Auditors are held in esteem by the profession and industry alike.
Please see https://www.quality.org/about-us for further details. © 2018 the CQI. All rights reserved.
For Marketing enquiries, please contact +44 (0)20 7245 8600 or [email protected].