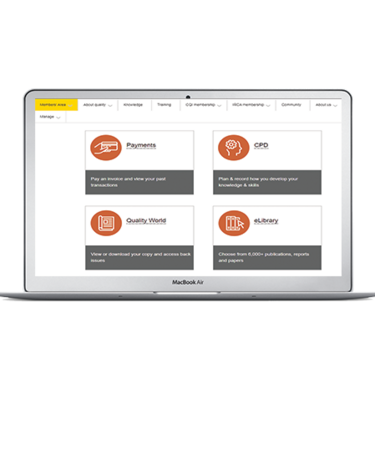 Learn about your new and improved Members' Area
Published: 27 Sep 2019
The CQI has made improvements to its website's Members' Area as part of the organisation's commitment to continuous improvement.
The CQI is committed to providing the best possible experience for its members and listens to feedback from members through its regular surveys. Significant changes to the Members' section of the CQI website have now been introduced in response to feedback that members want to see more online services and that the Members' Area would benefit from greater functionality and usability.
The improvements to the Members' Area include:
giving members greater control over their personal data and communications preferences;
the ability for members to record and maintain their CPD;
an improved payments section, including setting up direct debits online;
downloading receipts for past transactions.
Gareth Kingston, Head of Membership at the CQI, said: "We hope you enjoy the new and improved Members' Area. This is just the beginning. We will keep adding more functionality, but for now why not log in and have a look? We thank the CQI members who have been involved in the testing of the features over recent weeks."
To help make the switch easier, an instructional video (see below) has been created to run you through the basics of the new navigational system and show you how to use the new features.
If you have any questions about the new Members' Area please let us know at [email protected]