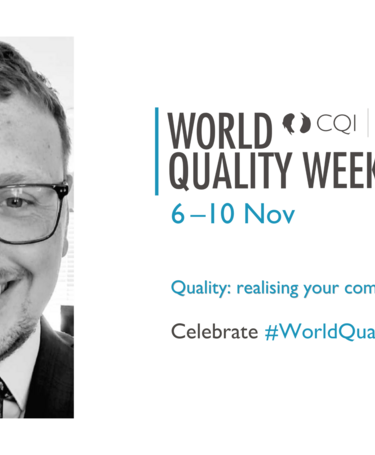 Driving success with root cause analysis tools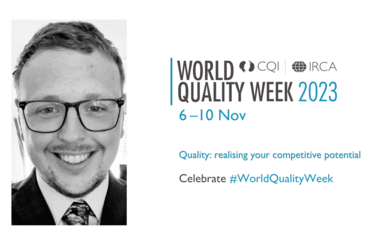 Published:
As part of our series of blogs for World Quality Week this year, Mitchell Reed CQP MCQI, a Quality Engineer for CloudNC, looks at the positive impacts of quality culture, and how it can be used to unlock an organisation's competitive potential.
In an ever growing and demanding world, poor quality is impacting a company's performance and reputation more than ever. For every technological advancement and revolution, there are quality tools and processes to ensure that they remain stable, monitored, and further improved. With that in mind, how do we ensure that quality remains at the forefront of our goals and objectives? I like to think it is by building a culture that promotes change and brings inspiration through creativity, with the use of root cause analysis tools and methodology.
Tackling the resistance to change with quality tools
I work for a business that is on a mission to automate manufacturing and create a clean and sustainable industrial revolution. With this comes the challenges that arise with continual change and a resistance to change, challenging the traditional statements such as "It has always been done this way."
To support my business in its rapid growth and change, I promote the use of root cause analysis tools that bring different teams together to provide their valuable insight into the area of focus. Common tools used across industry are:
8D
8D is a tool that was developed by Ford in 1987 and is still highly regarded as a champion tool to this day. Using eight different disciplines, it was developed to cover all aspects of problem solving.
Five Whys
5 Whys is a technique used to determine the root cause of a problem by repeatedly asking the question "Why?"
This methodology was developed in the 1930s by Mr. Sakichi Toyoda who is the founder of Toyota Industries, and this technique is still used today.
It is based on the theory that by repeatedly asking "why", you can unlock the key to understanding all signs of a problem and can promote active thinking. This technique is often used as an addition to an 8D.
Fishbone/Ishikawa
An Ishikawa/Fishbone diagram is a graphical method of brainstorming a given problem. This tool was developed in Japan in the 1960s. The top and bottom of the diagram are the key critical functions of a business, these could be considered as your "topics" for discussion.
Why do we need root cause analysis and what are the benefits?
With every discovery or breakthrough, a problem originated first. We as human beings have always tended to seek answers to various problems we have faced.
For every technological advancement and revolution, there are quality tools and processes to ensure that they remain stable, monitored, and further improved.
To get to where we are today, we have constantly pioneered our surroundings, and with that the most common and successful tools were developed with the aim to solve a problem quicker, better, and more successfully.
So why do we need root cause analysis? To gain a better understanding of the problems we may face, so that we can gain the answers we need to develop, understand, and improve.
Root cause analysis within a business:
allows people and teams to collaborate and learn from each other

allows people and teams to work in a positive and dynamic environment

safeguards the business

promotes a positive culture towards quality and conformity
promotes organisational excellence.
Root cause analysis tools can be applied to any given problem, across all aspects of a business.
Unlocking my competitive potential within quality
Although root cause analysis tools have been around a long time, I feel my competitive potential around quality lies in applying creativity and customisation on the various tools and methodology available, for example, only applying four of the eight disciplines of an 8D if I feel it is appropriate and improves efficiency. Another example is visually displaying the contents and outcome of an improvement initiative or investigation to showcase the great work carried out by all involved. By moulding these tools to suit the needs of my business, I can maintain focus, drive improvements efficiently and increase overall capacity which I feel will contribute to the overall success and goals of the business.
Helpful tips when approaching root cause analysis
Try to only solve one problem at a time; it can be easy to sidetrack from one problem to another. 

Ensure a 'blame free' atmosphere is maintained throughout the process; you are all in it together and are seeking the same outcome.

Consider all tools available to you, although similar, one might just give you the answers the other one couldn't.

Log all progress made. What may seem insignificant in one instance could be valuable in another.

The tools are a guide, don't be afraid to get creative with them so they better suit you and your team.
Remember to revisit a problem, even one solved. This way, you can monitor the performance of the correctives in place, as well as being reminded of the successful contributions.
Most importantly:
In a process whereby failings are discussed, remember to also discuss what went well – this will provide you data and help to explain what is not the issue.
Discover more World Quality Week resources
World Quality Week 2023 is your opportunity to celebrate your quality achievements, and realising your competitive potential. Discover articles and more on the theme of "Quality: realising your competitive potential".