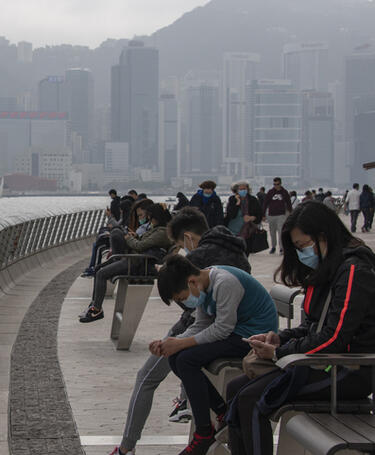 Life in Hong Kong during Covid-19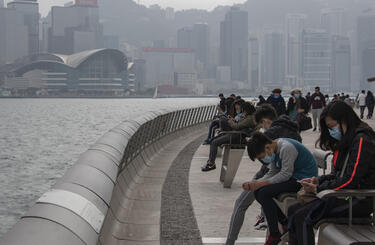 Published: 5 May 2020
Carmen Chin, PCQI, Quality Assurance, and Ian Streeter, MCQI, Quality and Safety Manager at a global transportation company, share their experience of life in Hong Kong during the pandemic.
Covid-19 first arrived in Hong Kong in late January 2020, with the first confirmed case announced on 23 January 2020.
None of us would ever imagine that a virus could have such an impact on both the economy and everyone's lives.
Hong Kong is a densely populated country with nearly 7.5 million people.. Containing the spread would require an already beleaguered government, still suffering from eight months of violent mass protests, to make difficult, unpopular decisions, quickly.
The government decided to shut schools in early February even though there were only eight confirmed cases on 28 January 2020 and introduced measures to isolate those who displayed symptoms for two weeks.
Using a contact tracing system, they traced people who had been in contact with those infected and isolated those people too. They closed businesses and restaurants that infected people had visited and thoroughly disinfected them. Places of public gatherings were banned and travel restrictions were implemented.
Companies should look to review their business continuity plans based on the lessons learned.
These new rules required the public's self-discipline and cooperation. Hong Kongers have bitter memories of the 2003 SARS outbreak, so the government and public reacted in unity. The entire population immediately wore surgical masks in public, carried pocket antibacterial gel and alcohol spray as our standard PPE.
All touchable surfaces in transport and public buildings were disinfected frequently. Shops, restaurants, businesses would check the temperature of people before allowing them in. Many places would not allow people to enter without wearing a mask. Business continuity was in action even without us realising.
Ensuring business continuity
Our company, a global transport business, quickly mobilised the local and regional emergency response teams to coordinate and ensure the safety of its staff as top priority but also to try and maintain business continuity.
Self-measurement of body temperature was mandatory prior to entering the offices, with hand sanitisers and masks provided. Flexible working hours were encouraged and working from home arrangements had become necessary to minimise exposure of staff. The staff in each office were split into two teams. One team would work from home while the other worked in the office.
This would rotate weekly, with weekend closures for disinfecting the offices. This social distancing initiative was to avoid the risk of cross infection, meaning that if one employee from Team A got infected, the whole of Team A will be made by the government to self-isolate at home. In such situation, the company will still have a Team B to support the operations and vice-versa.
Over the past few months, we have learned to adapt to these working arrangements. With the support of digital technologies and IT systems, we are now able to work as efficiently from home as we are in the office. Daily face-to-face discussions have been replaced by online messaging or virtual meetings with colleagues and customers.
The quality team have adapted to conducting remote audits and inspections via video/teleconference. As work-site inspections and supplier inspections are located in different parts of the world and cannot take place in person, we have adapted to these as best we can by reviewing photographs and documentation shared by email or videocall. Agility is the key to learn to adapt to such unpredictable events.
At the time of writing, Hong Kong has now experienced its third day in the last week of zero infection with a total of 1,038 cases since January and only four deaths recorded. All this without the need to enforce a lock down that has become commonplace in other countries. It is not the end of the virus but there are certainly positive signs that the worst may be over.
With the recovery in mind, companies should look to review their business continuity plans based on the lessons learned and start planning to return to a new 'business as usual'. We, as quality professionals must play our part in helping our businesses change to adapt to an uncertain post-pandemic future, as we possess the tools to help drive change and improvement in our organisations.
Quality World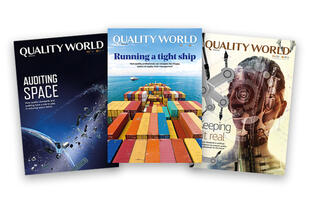 Get the latest news, interviews and features on quality in our industry leading magazine.