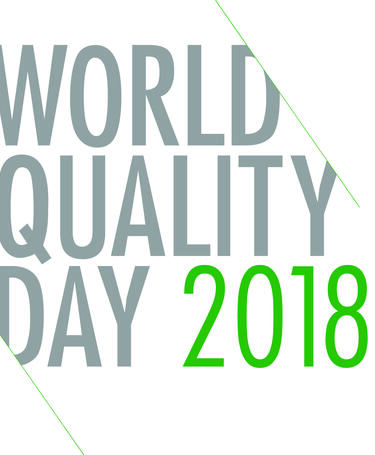 Thursday 9 November
Celebrating Everyday Leadership
World Quality Day 2017
Quality professionals at all levels display leadership behaviours – from advocating why quality is important to using fact-based thinking to help businesses balance conflicting objectives and targets.
This year, we are celebrating everyday leaders who exhibit the values of the quality profession – a clarity of purpose, a focus on stakeholders, a commitment to do things properly and to objectively evaluate outcomes, along with a passion for continuous improvement.
World Quality Day (#WQD17) is your opportunity to celebrate the achievements of your team and organisation, and recognise those that demonstrate leadership to sustain and improve performance every day of the year.
How will you celebrate World Quality Day 2017?
We would love to hear about how you will engage with your colleagues on World Quality Day. Email us your plans.
You can also tweet us. Share;
What you are planning to do for

#WQD17
How you are showing #EverydayLeadership17
World Quality Day toolkit
This World Quality Day toolkit will help you to highlight the value of the quality profession – it contains marketing, reading and activity materials to help you engage your stakeholders.
What is World Quality Day?
Many individuals and organisations use World Quality Day as an opportunity to act as quality advocates. In 2016, over a thousand organisations across the globe hosted activities around the theme of 'making operational governance count'.
Help us make 2017 a success. By honouring the quality profession on 9 November 2017, you help to raise the profile of the brilliant work you do all year round, and highlight the positive impact of quality on organisations.
World Quality Day is celebrated annually on the second Thursday in November
Future dates
9 November 2017
8 November 2018
12 November 2019
CQI leading the profession
Every year, the CQI invests in supporting and promoting the profession. Discover our vision for a quality profession valued by employers as a business partner in delivering excellence in governance, assurance and improvement.
Here are just a few highlights of how the CQI is leading the quality profession: