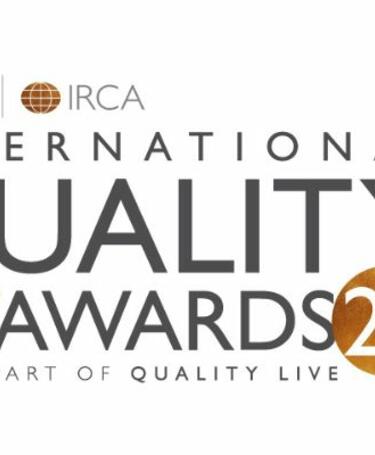 International Quality Awards 2024: FAQs
Applications for the International Quality Awards (IQA) 2024 open on Wednesday 8 November.
How to apply
To help you throughout the application process, we've collated a list of frequently asked questions (FAQs) that we regularly receive from applicants.
Do I need to be a member to apply for an award?
You don't need to be a member of the CQI/IRCA to apply for the awards, with the exception of Quality Professional of the Year which requires you to be a member of Chartered status. All other awards are open to everyone, providing you meet the criteria.
What is the fee to enter the International Quality Awards?
The Emerging Talent, Quality Professional of the Year and CQI Volunteer of the Year awards are free for individuals (or volunteer teams) to enter. Corporate Partners of the CQI can also enter any category for free, as a benefit of their partnership with us.
For all other entries, there is a fee of £299 +VAT which should be paid using a debit or credit card at the point of submission.
Can I apply for more than one award?
Yes, you or your organisation can apply for more than one award providing you meet the criteria. Make sure your entry applies specifically to the category, you should not submit identical applications for multiple categories as the criteria will not be the same. Please note that for those awards which have a fee attached, the fee is per entry. 
I want to apply for Quality Professional of the Year but am not yet a Chartered member. Can I apply to upgrade my membership at the same time?
Yes, you can. Please let us know that you are doing so when submitting your IQA entry so that we know that we can consider your entry. To apply for Chartered status, please contact [email protected].
How does the application process for CQI Volunteer of the Year work? It seems different from the other awards.
The CQI Volunteer of the Year award has a simple application process. We want to recognise a volunteer or team of volunteers who is making a positive impact on people or a project, whilst furthering the aims of the Institute. Volunteers can nominate themselves or each other. They can also be nominated by the CQI staff. There is no interview stage for this award, so only the written application is considered.
How do I nominate someone for the Outstanding Contribution award?
The Outstanding Contribution award is an honourary award which is chosen by a specialist panel of quality professionals, and led by the CQI Chief Executive Vince Desmond. We do not accept external nominations for this award and would suggest that you consider submitting an application to the Quality Professional of the Year category instead.
What should I include in my 100-word summary?
Your summary should include one or two key points from your application or any additional context about who you are, your role and what your company does. There is no scoring for the summary, it is simply to help the judges know straight away who you are and what they can expect from your application.
How should I split the word count?
Each criteria carries the same number of points – 10 points for your approach and 10 points for your results. We suggest you split your word count equally over each of the criteria to give yourselves the best chance of getting the maximum marks. Remember, your supporting slides are also there to help you. For example, rather than using your word count to describe how your team is structured, you could include an organisation chart on one of your slides and simply signpost to it within your written piece. Any words over the allowance will not be considered when marking your application.
What should I include on my supporting slides?
The number of slides you are given (six for all categories apart from Quality Organisation which allows eight) gives you the opportunity to provide supporting information for each section plus one spare slide for any extra detail. Do not use your slide to add more text – if you do this, it will not be marked by the judges. The slides should bring your application to life. Include graphs, diagrams, images, organisation charts – anything which supports your written work and provides evidence to back it up. Please do not overcrowd the slides with lots of tiny text – if the judges cannot read it, they will not score it.
The slides work best when the applicant refers to them in their text. The inclusion of these cross-references is vital to telling your story and to obtaining a good score. For example, add "see slide 1" in your text to show the judges where to look.
Do I need to refer to standards in my application?
If relevant, you can make reference to them, of course, but do not waste words by including text from the standard in your application. There are no marks for providing information that is in the public domain and which is not about what you, or your team, contributed.
Is it necessary to be fluent in English to apply?
No, it is not. We do require the written application to be in English, but it does not have to be perfect English as long as the meaning is not lost. If your application is shortlisted, you are welcome to invite a translator to join you for the interview if you would like to. The awards are international and we welcome and recognise contributions from across the world.
What happens if my application is successful?
Shortlisted applicants will be notified by the end of February and invited to attend a virtual interview (via Teams or Zoom) with the panel of judges. You will be given an opportunity to present to the judges and they will then ask questions to further understand your application. This is not a chance to add anything new, it should be based on the application you have already submitted.
Judges normally interview 3-4 candidates per category. Winners will be announced at the live presentation ceremony at Quality Live on Thursday 20 June 2024.
When are the interviews?
The exact schedule of interviews is yet to be confirmed, but they will take place between 11 - 28 March 2023. Please ensure that you or representatives from your team or organisation can be available during this period to attend the interview online. The CQI will endeavour to give at least two weeks' notice to shortlisted applicants and will be able to accommodate different time zones and variations to the working week.
Where can I buy tickets to the International Quality Awards?
The awards will take place at Quality Live in London on Thursday 20 June. Tickets to the event will be available from mid-March 2024.
Get in touch
If you have any further questions about Quality Live and the International Quality Awards, please contact our Event Manager Katie Steingold.