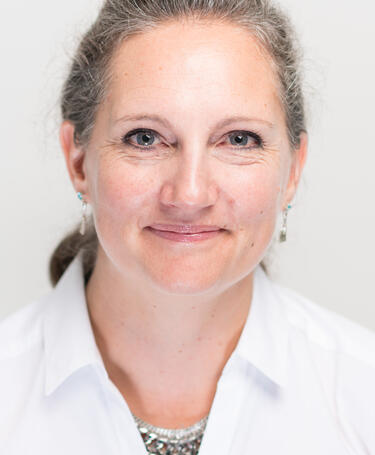 Does the NHS need a QMS overhaul? Or does it just need a QMS?
Published: 10 Nov 2017
Christina Champion, director of The Light Blue Consultancy Company, explores if quality professionals need to bring their expertise in quality management systems (QMS) to the NHS
The National Health Service (NHS) is arguably and reportedly recognised as one of the greatest healthcare services in the world. However, one doesn't need to look far in the media to see that it appears to be strained by limited human and financial resources, which in turn is leading to public criticism. Chris Ham, CEO of the King's Fund (an independent charity working to improve health care in England) has recently been quoted saying: "Two facts about today's NHS are incontrovertible. The first is that providers in England are in the fifth year of running an aggregate deficit. The second is that the organisation of the NHS is complex, fragmented and consumes a substantial amount of management time and cost."
This begs many questions, but one that relates to CQI members is: if a QMS is meant to bring consistency in meeting requirements, add value, achieve effective process performance and improve processes based on evaluation and data, then is there a QMS in the NHS? If so, is it just an ineffective one?
A quality manager's QMS vs. the NHS' QMS
Many will recognise the plan-do-check-act (PCDA) cycle that embodies the international standard for QMS' from the ISO 9001:2015 requirements. However, there doesn't appear to be something similar in the NHS England literature. The Kings Fund put together an image in 2013 to show how the structure, finances, governance and the customer and public were, and still are to some extent, interrelated.
It was an attempt to simplify this very complex organisation, at least as it applies to England. It did, however, lack the part that all the different professional Royal Colleges and bodies play. They have since produced slides that explain how it looked for 2016-17.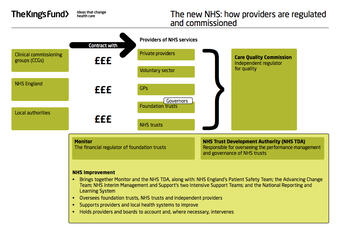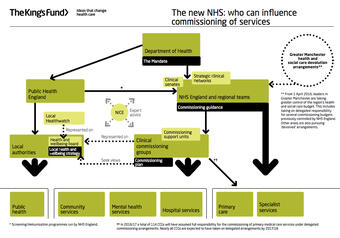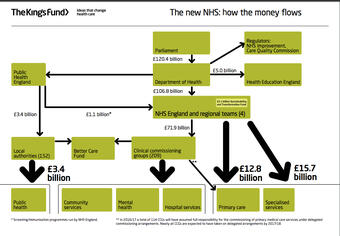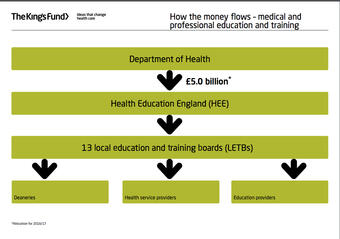 This appears to cover the 'organisation and its context' side of things, with the NHS being a nationwide (mostly) free healthcare service that is managed by the government's Department of Health. As such, it is subject to changes depending on the party and politicians in power and financed by complex funding via taxation and private enterprises.
One can surmise that the 'customer requirements' would be healthcare provision as a broad heading, which arguably includes preventative healthcare, training healthcare professionals and the means for diagnosis. What's difficult to tease out of any of the literature are comprehensive interrelated "needs and expectations of relevant interested parties", without which it is difficult to see how the PCDA cycle can be truly effective. Is this why there may be issues with the quality of customer satisfaction, products and services, if the press (and data) is to be believed?
What evidence is there that there is a PCDA cycle in the NHS? For planning, there are various Department of Health papers, stakeholder and budgetary statements that allude to the overall Continual Improvement Plans (CIPs) that individual providers sign up to. For support and organisation, each provider will have their own structure that does not appear standardised even within a provider type, although the overall structure appears to reflect what the King's Fund proposes.
For performance evaluation, there are many data streams that providers need to contribute to in the form of patient feedback evaluation, clinical audits, CIPs, NHS Safety Thermometer as well as evaluation by the regulators including the Care Quality Commission (CQC). Improvements are reported locally (for example through hospital board minutes) as well as nationally via the NHS Quality Board minutes. And lastly, leadership defined nationally and broadly. The leadership and management structure and responsibilities for all the different parties is naturally a very complex picture that is impossible to summarise here.
However, there are what appears to be quality objectives that the NHS Quality Board has outlined in its 'Seven steps to improving quality'.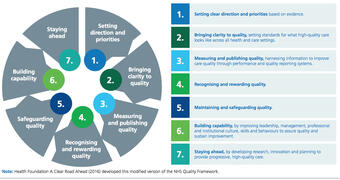 So, does that mean that although it doesn't appear that there is a definable QMS in place, there are at least the elements of it? Should that be enough? It could be argued that if one works on the premise that there is an internationally agreed standard embodying the seven quality management principles that all organisations of any size and complexity can work towards, then why is it that the NHS, which is believed to be so fundamental to the British way of life, does not have a QMS certificated to ISO 9001:2015?
With the focus now being more about resilience, continual improvement and efficiency, the NHS needs this standardisation more now than ever as the financial market constricts around it. Looking to the sheer volume of human resources required to deliver the frontline product/service, it will take more than better-defined and interrelated structure and processes to keep them performing the actions required to deliver health care. More and more reports are coming out suggesting that this resource is so under stress that the NHS organisation is under threat.
Any successful private enterprise knows that it's the staff that makes an organisation successful, but they can also break it if they are not invested in and 'cared for'. Removing unnecessary inefficiency, complexity, and barriers to timely and effective innovation and improvements through implementing a comprehensive QMS, can only help, can't it?
Maybe it's time to get the quality managers out there involved. We are an experienced group of professionals who know how a well-oiled organisation looks like. We add value by advising and implementing QMS through international standards. Now is the time to bring that expertise to a struggling organisation and enable its true value to be realised. Before it's too late.
Quality World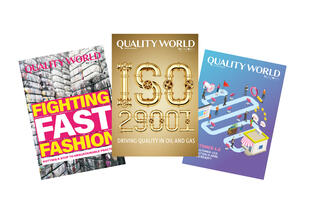 Get the latest news, interviews and features on quality in our industry leading magazine.
Apply to join the CQI
Start your application and join the only chartered body dedicated to quality.