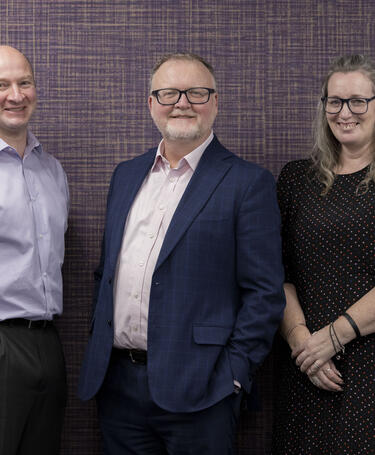 The CQI's Executive team, roles and responsibilities.
The CQI's Executive, led by the CEO, is responsible for implementing its strategy. It is accountable to the Board of Trustees.
Vincent Desmond, CEO
Vincent's early career was in education and educational management, working as director of studies at International House (IH) in the UK, Egypt and the Czech Republic. During this time he acted as an assessor in the International House global network and developed the quality management modules of the IH Diploma in Educational Management Skills, in conjunction with Aston University.
During a period of MBA study in 2000, Vincent joined IRCA, where he ran the IRCA training certification business. This involved working with the training community to update and improve training provision for management systems auditors globally. After taking the role of deputy director of IRCA in 2003, he expanded the portfolio of IRCA certification products, and established a subsidiary in Japan and regional representatives in South East Asia. He also led on IRCA's accreditation to ISO 17024.
He became acting CEO of the CQI in 2015 and represents the CQI at a number of industry groups.
Outside the CQI, Vincent is married with two children, and finds time to sail in the Solent, sing in chamber choirs and swim.
Tally Singer, Executive Director - Membership and Commercial Services
Tally has significant experience in account, sales and operational management, initially within the legal sector, specialising in conveyancing. During this time she worked for a large corporate property company, starting in their legal division managing an operational team, before moving on to account management and working with both lawyers and estate agents. From there she moved on to work for smaller organisations delivering professional services, broadening her experience of different sectors.
Joining the CQI in 2013 as membership manager for IRCA, she initially focused on improving customer service delivery, expanding her role to incorporate the training organisations before moving on to lead the review of the CQI's learning and development portfolio. Becoming executive director, Operations, Tally has responsibility for both the individual membership and learning and development.
Outside the CQI Tally likes to spend time with friends, enjoying village life in the countryside.