World Quality Day 2017– Celebrating everyday leadership
What does 'everyday leadership' mean?
"Leadership is about how we strive to do our best and how we support others to do their best too. It is a behaviour and a skill to be developed - in the same way the more technical elements of our role - and used daily to help us deliver impact for our organisations."
Estelle Clark CQP FCQI FRSA, Executive Director of Policy, CQI
The CQI Competency Framework has leadership as its core, reflecting that leadership behaviours are essential to the way quality professionals work. There are eight key leadership behaviours that quality professionals undertake as part of their everyday work:
Eight examples of everyday leadership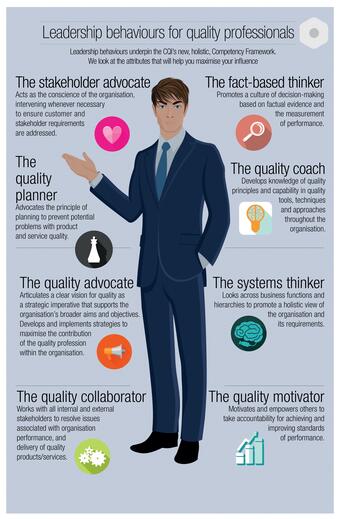 How can I benefit by recognising and using quality leadership skills?
Individuals
Influence and motivate your colleagues, clients and stakeholders, leading to better project outcomes.
Successfully meet the requirements of ISO 9001:2015 and ISO 14001:2015.
Prepare for the upcoming changes to ISO 45001.
Create a legacy by implementing business-appropriate systems and measurements.
Identify specific examples of where you have made a professional impact. Great for your CV or performance review.
Employers
Driving leadership competence enhances the quality activities of governance, assurance and improvement.
Coaching new quality professionals is a great way to widen the talent pool for years to come.
Ensure quality risks and opportunities are part of business decision making.
Quality leaders will help you sustain and improve performance every day of the year, in every corner of your organisation.
Partners organisations
Enhance the reputation of quality as an important and strategic business function.
Champion a quality profession that collaborates with business to achieve economic success.
Support every part of the profession to be recognised for the impact and value we deliver.