IRCA Aerospace Certification Scheme
The IRCA Aerospace Certification Scheme is for auditors who use aerospace auditing standards AS/EN/JISQ 9100, 9110 and 9120 and ISO 9001.
Eligibility
QMS auditors expected to check the effectiveness and compliance with aerospace requirements, such as those employed by third-party certification bodies/registrars (but not for ICOP certification), or to conduct second-party audits on behalf of purchasing organisations, or on behalf of organisations carrying out firstparty audits of a size or complexity beyond the capability of internal auditor grades.
Quality practitioners, e.g. quality consultants, quality managers and other quality personnel that require the greater understanding or professional standing conferred by the grade.
Technical personnel/airworthiness surveyors etc. with employment experience with civil aerospace regulatory authorities and government military aerospace organisations.
To be certified under this scheme, you'll need to demonstrate that you have the skills to audit the proper implementation of standards AS/EN/JISQ 9100, 9110 and 9120 and ISO 9001.
Requirements
All applicants are required to demonstrate knowledge and competence in the application of aerospace requirements. This means services and products that have airworthiness, regulatory, legal or aerospace-specific requirements. This will be demonstrated in the work experience section of the application. It will not be sufficient to have experience of products such as seats and cabin equipment, simple fasteners, general forgings, castings, fabrications or machined parts that, while used in aerospace applications, are subject to general engineering requirements rather than the airworthiness requirements detailed below.
Auditors should demonstrate knowledge and competence in the majority of the following aerospace industry-specific aspects of aerospace industry quality, regulatory and/or military aerospace requirements:
First article inspection
Airworthiness and safety requirements
Aerospace material traceability requirements
Aerospace subcontractor approval and control
Variation management of key characteristics
Flow-down of aerospace QMS requirements
Foreign object damage/debris (FOD) prevention
Use of customer-supplied products
Calibration controls and positive recall systems
Acceptance authority media
Nonconforming material management
Sampling inspection/statistical process control requirements and limitations
Special processes
Configuration management/requirements control
Aerospace manufacturing techniques
Tool control
Design development verification and validation.
Auditor training requirements
For all Aerospace auditor grades, the auditor must have successfully completed (at a minimum) an IRCA-certified QMS Auditor training course appropriate to the grade for which they wish to apply.
For all aerospace auditor grades, work experience must have been within the last five years unless the auditor has successfully completed an aerospace-specific auditor course within the last five years, such as the AS 9100 Auditor training course, in which case their work experience may still be accepted.
Adding additional aerospace scopes to a registration:
9100/9110/9120
Auditors who wish to have the 9100/9110/9120 aerospace auditing scopes added to their certification shall undertake recognised AQMS 9100/9110/9120 courses in order to have these certifications. Self-study is not acceptable.
Additional audit requirement
For all grades: If an auditor wishes their aerospace certification scopes to include the 9100/9110/9120 aerospace standards, the audits submitted must cover some or all of these. (Scopes assigned to the auditor will be aligned to the audits submitted.)
CPD requirements
For all grades, CPD plans should include objectives designed to keep the auditor up-to-date with aerospace-specific knowledge.
Examples of acceptable ways of keeping up-to-date might include:
Audits in aerospace companies while employed by a certification body or consultant
Attendance on aerospace QMS training courses, such as AS/EN9100, AS/EN9110 and EASA Part 21 or Part 145
Courses run by aerospace primes for their suppliers, other training courses, or membership of a quality group run by the CQI or similar.
Guidance on acceptable work experience
Note 1
Acceptable 'aerospace experience' means employment in an organisation that is an aerospace prime or major supplier to a prime, designing or producing engine parts, avionics, landing gear, airframe components or auxiliary equipment, or a repair/maintenance organisation that has one or more of the following:
AS9100/EN9100 certification
AS9110/EN9110 certification
FAR/EASA Part 21 or Part 145 approval
CAA, JAA or FAA approval to airworthiness standards
ISO 9001, where the applicant can clearly show the experience was not of products such as seats, fasteners, general forgings, castings or fabrications that, while used in aerospace, are subject to general engineering requirements rather than the airworthiness requirements detailed above.
Employment in one of the following is also considered as satisfying the aerospace work experience requirements:
Civil, military (including armed forces personnel) or space organisations such as a national aviation authority (NAA), European space agency (ESA), NASA, or a government ministry or department of defence (MOD/DoD) where the prime responsibility was for aerospace.
Note 2
For acceptable 'aerospace experience' within the organisation as described in Note 1, the applicant's role is required to have been related to the Aerospace QMS. Examples would include quality manager or engineer; production or manufacturing engineer, if involved in setting quality standards or validating compliance of products or methods of manufacture in accordance with design intent; design engineer, if working with airworthiness requirements; supplier quality engineers, if evaluating suppliers QMS or products in compliance with aerospace requirements; applicants working in a national aviation authority (NAA), space agency or government department of defence, having responsibility for monitoring the design, manufacture and procurement of aerospace products from appropriately approved aerospace prime organisations or suppliers to prime organisations, the assessment and approval of such organisations' quality management systems and compliance with airworthiness requirements. Also, armed forces personnel who have direct experience of the repair and maintenance of military aircraft and associated aircraft systems and subsystems.
The Aerospace QMS Scheme is based on the auditing key standards:
ISO 9001: Quality management systems – Requirements (latest edition), or
AS/EN/JSIQ 9100: Quality management systems – Aerospace – Requirements (latest edition), or
AS/EN 9110: Quality management systems – Aerospace – Requirements for maintenance organisations (latest edition).
Note a): AS9120: Quality management systems – Aerospace – Requirements for stockist distributors also exists, but is not deemed to be comprehensive enough for the IRCA Aerospace Sector Scheme, and so audits to this standard alone are not acceptable audit experience.
Note b): The IRCA Aerospace QMS Scheme must not be confused with the International Aerospace Quality Group ICOP Scheme. The IRCA Scheme is not sufficient for auditors conducting certification audits to the standards referenced above to gain entry on to the OASIS database.
Acceptable alternative standards
We may accept audits to alternative standards not listed on the IRCA certification scheme. To find out more please visit the Acceptable Alternative Standards page.
Make an enquiry
Complete the form so that we can best advise you on your next steps to membership and future success.
Recommend membership to a colleague and get £25*
1. Fill in a simple form
2. We'll send them an invite
3. They join CQI or IRCA
4. You get rewarded
Transition training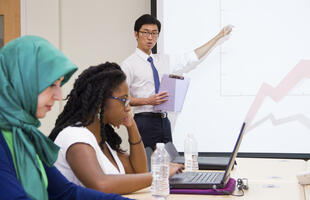 Update your knowledge and skills on the revised ISO 9001 and 14001 standards by 1 September 2018. Search our practitioner courses for transition training.