World Quality Week 2021 highlights
Published: 18 Nov 2021
This year we celebrated our first ever World Quality Week. From 8-12 November 2021 the CQI and our members shone the light on quality's role in sustainability and its environmental, social and governance (ESG) impact with our theme - Sustainability: improving our products, people and planet.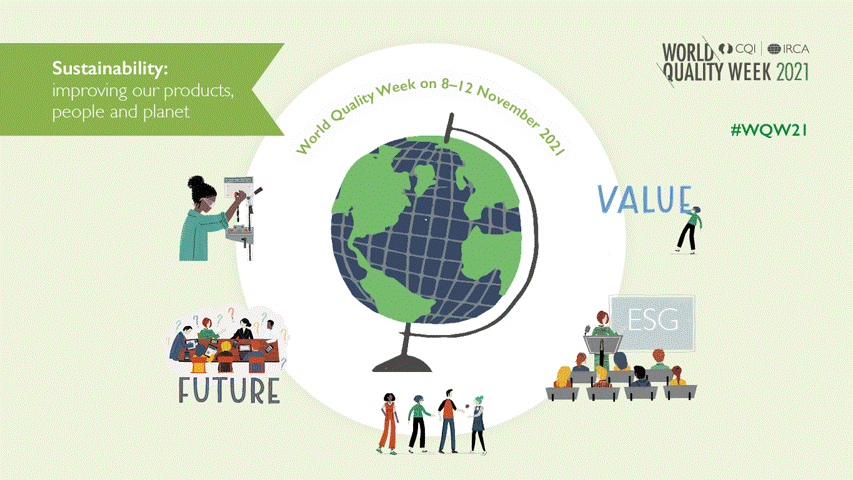 Before and during World Quality Week, quality professionals around the world have showed their dedication, passion and engagement with the theme by attending our events, joining the conversation on social media and organising their own company activities. These ranged from training sessions to charity bake-offs, and many held educational seminars and presentations throughout the week.
We saw a stupendous range of contributions across the globe to promote the critical link between quality management and making organisations, products and services better for people and planet. Today's quality, really can be tomorrow's sustainability.
If you missed our webinars during World Quality Week or would like to watch them again, you can view them all now.
Here are some highlights from individuals and organisations around the world.
Megan Whitehouse, First Choice Group says:
'We are hosting a World Quality Week. We use this week to inform our employees about quality, why we have it in our company and how they can enforce it throughout their daily tasks.

We have two competitions on this week. One a factual quiz about quality, the answers will be dotted around the building that our employees much search for, and the other will be best suggestion to improve quality and sustainability in the employees department.

We are also having our senior leaders swap departments for a day, to help highlight any issues the department may have and to ask individuals to go through their departmental quality procedures. It puts a fresh perspective in the department and can be reported back to our Managing Director and Head of Quality.

We have also teamed up with two of our manufacturers we work with (Hobart & Brita) to promote quality together and share information as to how we promote quality in our businesses.'
Animesh Sourabh, MagiCAD says:
'We are a construction software provider and we help our clients deliver high-quality projects on time and on budget.

We are hosting a panel discussion on 'Improving Quality in Construction – What, How and Why' on the 'World Quality Day' on 11th Nov.

There will be panellists from different backgrounds and the attendees will hear diverse views on their approach to quality.

Attendees will have the opportunity to
- learn about best practices related to improving construction quality,
- have a chance to pose questions to the panel &
- receive useful information to facilitate discussions around quality for their own operations.'
Brett Gaskin, QHSE Management, Auditing and Compliance:
'What a week celebrating #WQW21! Whilst it has been busy managing the amongst audits, customer visits and the 'day-job', I have also found it to be incredibly motivating; reminding me of the reasons that I love my profession and why Quality is so much more than inspection, control and assurance.'
Derek Geyer, McLaughlin & Harvey:
'So proud to be part of World Quality Week 2021 and to be presenting to team McLaughlin &Harvey today and on Wednesday on how good quality management can reduce our carbon footprint and make us more sustainable as an organisation.'
The MOD Quality Awards also took place this week, and the CQI were proud to sponsor these awards again this year. Our CEO, Vince Desmond, presented the awards with Stephen Wilcock, DE&S Director Engineering and Safety. They spoke about sustainable quality as part of the conference.
The spotlight on sustainability does not end with WQW 21. We are delighted to announce the return of the CQI's International Quality Awards in 2022, and with it comes two new categories – Sustainability Impact and Digital Innovation. Find out more.