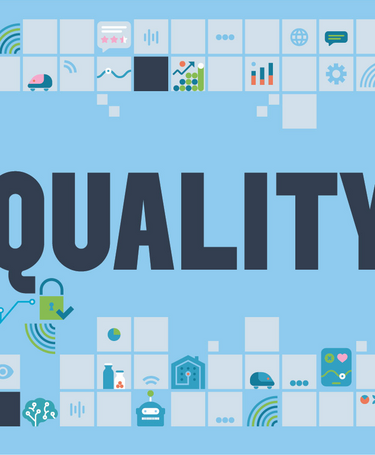 Digital transformation is challenging the quality profession and its traditional principles, practices and tools. The CQI wants to help the profession understand and prepare for Quality 4.0.
Research on Quality 4.0
The CQI has commissioned a programme of research, supported by our Research Advisory Panel, to explain what Quality 4.0 is and to give some examples of it.
Phase one (complete)
Phase two (in progress )
Case studies to show practical examples of Quality 4.0
Comparison of the eight Quality 4.0 principles with the seven ISO quality management principles
New knowledge, skills and behaviours professionals need for Quality 4.0
What is Quality 4.0?
Based on phase one of our research, here is our working definition of Quality 4.0:
Quality 4.0 is the leveraging of technology with people to improve the quality of an organisation, its products, its services and the outcomes it creates.
This definition sees quality professionals as having two roles:
To help organisations adopt and use digital technologies – so they create value for customers and other stakeholders
To adopt and use digital technologies in quality management – to effectively deliver governance, assurance and improvement
Read about the phase one research and the working definition of Quality 4.0. Learn more about the eight Quality 4.0 principles.
Why Quality 4.0?
Quality 4.0 is becoming more important to:
Quality 4.0 is not…
A new term for quality management. We want to understand how Quality 4.0 impacts core quality principles
Replacing quality management methods. We're keeping our tried and tested tools, but we'll support organisations to learn new approaches and practices
The CQI's new framework. We've updated our framework to The Profession Map with new skills, knowledge and behaviours that professionals need in a Quality 4.0 world
Quality 4.0 FAQs
See our FAQs for more on Quality 4.0 or contact us with any questions by emailing [email protected].
The CQI is now actively part of the Quality 4.0 conversation and is working with global quality bodies and associates to spread the message far and wide.