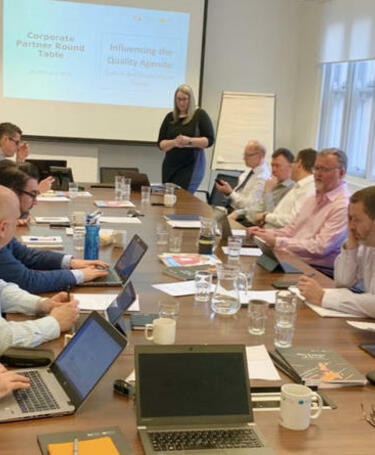 CQI hosts Corporate Partner roundtable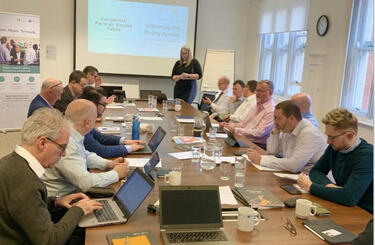 Published: 4 Mar 2020
The CQI launched its first Corporate Partner roundtable of the year with a focus on influencing the quality agenda; culture and leadership in quality
A number of CQI Corporate Partners joined the CQI for a morning of discussions and networking opportunities, as the organisation held its first Corporate Partner roundtable event, 'Influencing the Quality Agenda; Culture and Leadership in Quality', on Wednesday 26 February.
The event, which forms part of several roundtable sessions, taking place over this year, was hosted and facilitated by Tally Singer, CQI Executive Director of Membership Services, and CQI CEO Vince Desmond, at the CQI headquarters in London, UK.
Quality Culture
Starting off the proceedings, Mark Eydman CQP MCQI, Managing Director of Six Pillars Consulting, provided his presentation on 'Developing a Quality Culture in Organisations: Does your Organisation have the culture required to drive business success?' During the presentation, Eydman explained the various definitions for 'quality culture' and the guidance given by current standards to help organisations incorporate it into their broader culture model. He said: "For the past few years, I've been pondering how much help existing standards give us in this space and it's quite disappointing. For example, ISO 9001 doesn't provide much help or guidance when it comes to improving work culture for businesses, while ISO 9000 doesn't even include a definition of what quality culture is."
Eydman is the Chair of a new working group in ISO's Technical Committee developing a new quality culture standard, ISO 10010 Quality Management – Guidance to evaluate and improve quality culture to drive sustained success, over the next three years. The new standard aims to close "the culture gaps that might otherwise limit progress within organisations". He explained: "While at an extremely early stage, an early framework for 10010 suggests that it will include a broader examination of the nature of a quality culture, consideration of the associated benefits, a practical assessment model and tools to support required development in any context."
It was interesting to note that this new ISO standard has been proposed by China, which has developed its own national quality culture standard to underpin their industrial strategy which aims to reposition China from competing on cost to competing on advanced technology, innovation and quality.
Eydman added: "A wide audience is anticipated for the standard including organisations of all sizes, governments and non-governmental organisations. It is very much anticipated that the completed work will be highly aligned with existing and immanent ISO standards and be based on a high degree of international collaboration."
Barriers to change
The second part of the session 'Barriers to change' took the form of a table discussion, where delegates were asked to discuss what is and isn't working for work culture and leadership, and how quality professionals can influence a change in direction? The exercise prompted a mix of responses.
Quality is back on the radar
The first and most positive theme from the debate was that quality of product, service and project was increasing on corporate agendas, providing opportunity and traction for quality leaders and teams. As one participant said, "What is working is the fact that we are turning a corner on quality and it's back on the radar for many organisations."
Competing agendas and cultures
While many organisations are moving to single business management systems designed to capture and deliver on the full set of stakeholder requirements, the roundtable noted that organisations have an increasing number of agendas and behavioural initiatives. For example, safety cultures are well established, driven by regulation and legislation, although it is not widely understood that today's quality is tomorrow's safety. That said, collaborating with safety colleagues and building on safety culture provides an opportunity for the quality profession.
It was noted that changes in corporate governance codes and requirements are increasingly placing accountability for corporate culture with non-executive boards; again providing opportunity for the quality function and the business management system. With that in mind, the roundtable took the view that the CQI should consider organisation culture holistically, driven by purpose, values and behaviours, and supported by the business management system. The overriding view was that the new ISO work item on quality culture (ISO 10010) needs to consider this point carefully.
Accountability for quality
The roundtable acknowledged the need for accountability in quality of work and decision making throughout organisations, and that organisational leaders can help by ensuring that there are consequences for poor quality behaviour as there are for unsafe behaviour. It was noted that quality culture studies over the past decades have consistently shown that employees see a worrying disconnect between the stated values and culture of an organisation and the messages and priorities communicated by leaders.
Learning organisation
The roundtable discussed the need for the quality function to support learning and embedding improvement. Some of the themes included:
Improving quality metrics, data and analysis for organisational leaders.
Changing language, for example describing negatives, such as cost of poor quality, in terms of opportunity: margin improvement, brand improvement, customer retention and safety.
Improving learning-from-experience processes, share best practice and reinforce good culture and behaviours.
Engaging with the 'grassroots' of the organisation as the real manifestation of culture.
As one participant put it, "To influence leadership, companies need to use data to quantify the impact of what quality is costing their business, while also making quality more 'attractive' at grassroots levels within their organisations."
How can the CQI help?
The final part of the roundtable focused on the wish list from corporate members. This included:
More assets to help non-quality professional.
Guidance on standard, leading quality metrics so that corporates can benchmark.
A standard quality culture temperature check tool.
Assets to help customers be more 'intelligent' with regard to quality management.
A quality manifesto for industry.
As the event concluded, delegates had an opportunity to network and raise any questions or queries they had from the day.
Taking to social media, one participant said: "I attended my first #CQIRound Table Event today in London to discuss "Quality Culture" and "Barriers to Change" and it was brilliant. Great engagement, networking and commonality amongst the panel."
Summing up the day, Desmond added: "It was good to welcome five new organisations to the CQI corporate partner programme to this debate on quality culture, which underlined once again that quality management challenges and opportunities are very similar across all industry sectors".
The CQI roundtables are exclusively for CQI Corporate Partners and the next roundtable, 'Measurement of Quality' has been confirmed for Wednesday 8 July. If you would like to register your attendance for this event or would like more information, please email Tally Singer at: [email protected]