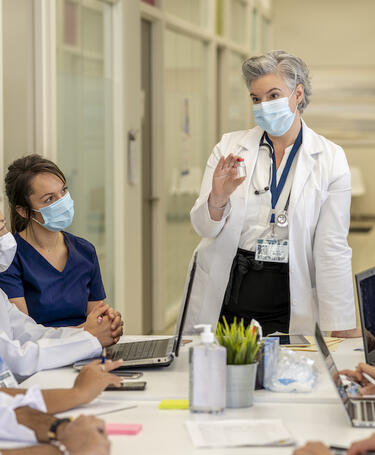 ISO 9001 in healthcare: Certifying a service, not a product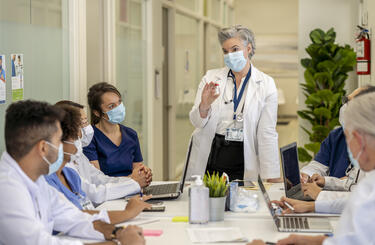 Published: 6 Apr 2023
What are the challenges of becoming certified to ISO 9001 in the healthcare sector? Denis Foley CQP MCQI explains.
ISO 9001:2015 Quality management systems – Requirements is a cornerstone of many organisations in a variety of sectors. While it may seem most pertinent for organisations that manufacture products, it is also a vital tool for companies providing a service.
SouthDoc, an organisation offering an out-of-hours family doctor service for urgent medical needs in counties Kerry and Cork, in the south-west of Ireland, was recently certified to the standard.
Its Quality and Compliance Manager, Denis Foley, is no stranger to 9001, having gained huge and varied experience of quality in the engineering and manufacturing sectors. Implementing the standard in an organisation where a top-quality service replaces a top-quality 'product' offered a new challenge, however.
More than 500 general practitioners (GPs) and locums at SouthDoc ensure people can receive medical attention on nights, weekends and public holidays, while 180 employees ensure the smooth running of the service. A robust quality management system is key to ensuring efficiency of service, operating in the pressured environment of healthcare.
"Anything that is an improvement for the patient, to make the service better, is better for everyone."

Denis Foley CQP MCQI, Quality and Compliance Manager, SouthDoc
Decision to implement
"SouthDoc had the bones of a system, but it wanted to implement a structured system," Foley says of the decision to bring him onboard to implement a strong quality management system.
"The organisation has really grown over the years – last year by about 5% – and it is growing all the time. It is funded by the Health Service Executive, the HSE, which is looking for more structured ways of working. The patient is at the centre of all we do, there is no question of that. So, the goal of becoming certified to ISO 9001 was to move to a more formal structure that was certified independently, to improve efficiency and the service to the patients."
With the decision made to implement ISO 9001, Foley embarked on the mammoth task of become certified to the standard.
"First, I had a really good look at the organisation – all of the documentation available and how everything was working. It is a really complex organisation, so I spent a lot of time travelling around, asking questions, visiting all of the treatment centres, and getting that information, and then putting all of that information into a structure that I was already familiar with.
"One of the biggest tasks was to develop the detailed strategy document, which then set the goals and objectives for each functional area within the organisation. Further developing the organisation's risk register was also a big thing. I used models based on ISO 31001, which I used in other organisations, as I knew that was an effective tool."
No quality manager is an island, so ensuring that all members of the organisation understand and are onboard is a vital part of the journey – as all quality professionals will agree. To meet this challenge, Foley set about developing a quality awareness programme, calling on his experience as a lecturer in quality management and auditing at the Munster Technological University, and as a volunteer in the adult education system.
"In manufacturing, a lot of people are already quality professionals, so the language you speak to them is completely different from the language I speak to people here," Foley says. "I used information I had got over the years from the CQI and, essentially, gave a history of quality – 'what is quality and how are people involved?' I wanted to try to bring it home that each individual is involved in this and what the implications are if you don't do your work correctly.
"Then I used the structure of the standard to show what we have – risk management, the strategy document, the processes within the organisation, and how they fit into the standard."
With all of this quality awareness training now available on the organisation's intranet, Foley turned his attention to restructuring the documented management system – a significant task requiring input from all of the different functions.
With a strategy, risk management system and awareness all in place – and the organisation's Quality Policy developed – an internal audit system was next on the list. Foley again called on his previous experience to train internal auditors and set up an audit schedule, to ensure all of the 15 main processes were covered, and that audits were carried out and corrective actions taken.
Continuous improvement
As everyone knows, the ISO 9001 journey does not end for an organisation once the certificate is on the wall at headquarters: continual improvement is key. SouthDoc surveys patients on a monthly basis and GPs bi-annually to aid in this, and continually monitors the calibrating of its medical equipment.
With ISO 9001 certification achieved, Foley can reflect on the benefit to the organisation.
"We have oversight of what the organisation was already doing, so, in that sense, from the outside, it shows you are doing something that is good and effective. But really it is a structure for improvement, moving forward, so that is essentially the main benefit. Anything that is an improvement for the patient, to make the service better, is better for everyone."
Having completed SouthDoc's ISO 9001 journey, what advice would Foley offer to quality professionals who find themselves in a similar situation of implementing the standard in a different sector?
"Really, the standard tells you everything in its requirements. People go off on tangents; they read books and get in consultants who all have different views on what they want – but my advice is to just read the standard, know exactly what is required, and then implement it.
"Whether it is a service organisation or a product organisation, the language may be different but, ultimately, it is the same standard. The standard says what the requirements are, so, if you don't vary from that, you will be in the right place."
Effective auditing starts with the end result in mind
Andy Nichols, CQP FCQI, Quality Program Manager at Michigan Manufacturing Technology Center in the US, explains how internal auditors need to ensure that top management fully understand what audit results are telling them.