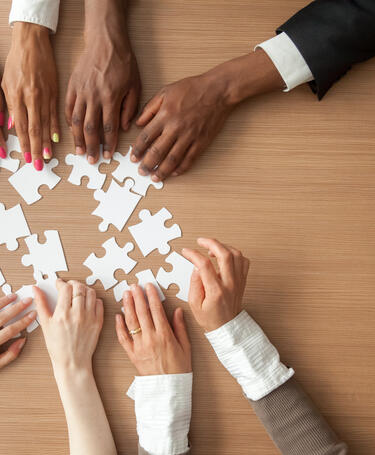 Ensuring employee engagement in complete digital transformation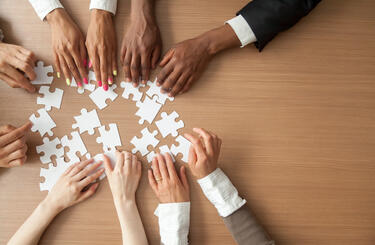 Published: 30 May 2018
Professor Mitter Vedu FCQI examines the impact of digital transformation for organisations and stresses the importance of employee engagement for deriving full benefits of this transformation.
Nowadays, many organisations, small and medium-sized enterprises (SMEs) in particular, are looking at complete digital transformation (CDT). They are fast embracing digital technologies that bring a paradigm shift in their operations. In the last few years, digital disruption has renewed competition, placing innovation at the centre of business strategy, and opening up new markets.
Though mobile, cloud and big data are the buzz words today, a gamut of new age digital tools including machine to machine (M2M), Internet of Things (IoT), artificial intelligence (AI) and analytics are set to be the next agility drivers. The focus is more and more on business process management (BPM) and the various offerings in the market. However, research suggests technology in itself does not guarantee progress. Technology amplifies social construction. Human and cultural dimensions of organisations need to be well understood to leverage technology for change. The reliance on gadgets often implies lack of human connection at home and in the workplace, and this can be both an enabler and an impediment to successful teamwork.
Eiji Toyoda, former Chairman of Toyota, said: "Senior management is simply a flag bearer when a business decision is made. It is of no use unless others follow the flag." Dr Deming advocated instilling 'pride of workmanship' as a principle. Dr Graham Wilson, Churchill Fellow in Industry and Education (1993), used to refer to quality of performance as a three-legged stool, the three legs being product, process, and people. He added that, without people's involvement, both product (including service) and process would be suboptimal. Enthusiastic people's involvement in process improvement is a sine qua non (absolutely necessary) for product or service excellence. Some of the enthusiastic adopters of CDT appear to be neglecting the human element in innovation and growth. Information technology without engaged employees can only institutionalise inefficient processes, if the capacity for spontaneous innovation in the service of customer/stakeholders is not optimally harnessed.
"Today, technology is no longer just vertical but something that is diffused across every element of the organisation."
Today, technology is no longer just vertical but something that is diffused across every element of the organisation. The transition from traditional business organisation to the digital organisation is before us. How we would make decisions if we could have the right information at the right time is a pertinent question, differentially enabled by intelligent objects, cloud-based information systems and the ability to analyse complex and large datasets.
The questions confronting employers are: How do we make our employees own our vision and values, and live those values? How do we make people embrace change? Do my employees understand the impact and what needs to be done to get through this wave? Have we done enough to power this change? If not, we might be late. Systems of record have moved to systems of engagement, but that is not enough for this change. Mere automation is not digital. Employees have to be equipped with systems of intelligence that will power the wave of humanising organisations. As digital business success depends on a process-based management framework that emphasises customer experience, employees need the knowledge and willingness to enthusiastically participate in it.
As the world shifts to human-machine partnerships, what clicks with employees is not the job description. While factors like good compensation, growth opportunities, and work environment make a job attractive, the best companies to work for are inclusive and fair, visibly open, not driven by hierarchies, and offer an opportunity to innovate. Open and flatter organisations have enviably low attrition rates. Inclusion, openness, and innovation are desired and they thrive in a team environment with a sense of belonging and complementary diversity.
In this setting, there is an obvious need for a methodical approach to employee engagement.
In order not to put the cart before the horse, cultivating employee engagement must be concurrently promoted while exploring digital transformation. Employee engagement is the result of a painstaking sequence of efforts commencing with communication which enables comprehension. Comprehension leads to cohesion in a team-based setting, which fuels commitment to team goals that are most often deliverables to customers, internal or external, thus fostering empowerment. This, in turn, keeps employees completely engaged with the overarching strategic goals of the organisation. There is a grand learning cycle for management in this cycle of activities. The detailed cycle (4C2E) and sub-cycles (GAMER) (ESCAPE) are depicted in the following Employee Engagement Framework (Table 1.0).
It is important to remember that any process improvement effort needs to culminate in a team-agreed standard operating procedure to sustain the improvement. Most process improvement efforts fail, most commonly due to one of three following reasons:
Too much focus on documentation.
The procedure is left to the quality manager.
When there is no sustenance plan after the improvement idea.
It goes without saying that process owner/management support is a basic requirement. I have seen this approach working successfully in many organisations.
TABLE 1.0 – EMPLOYEE ENGAGEMENT FRAMEWORK
The Grand Engagement Cycle (4C2E) for Leaders/Process Owners with authority to form teams:
1. Communication: Develop vision, values, goals, and objectives in a team-setting as far as practicable.
2. Comprehension: Increase understanding and competence of the employee role in achieving them.
3. Cohesion: Let the team with its leader evolve the role of each member including the leader.
4. Commitment*: Use Ends and Means Charter with clear milestones to enable the team to act, intersperse with appreciation and recognition on achieving important milestones.
5. Empowerment**: Enable complete sense of freedom to serve the customer and improve satisfaction.
6. Engagement: Cultivate a feeling of self-direction in every member of the team within charter boundaries.
7. Review and Recycle: Learn and improve cycle.
*The regular action methodised sub-cycle (GAMER):
1. Goal: Every goal espoused by the team has to be measurable.
2. Action plan: Draw up an action plan which can be periodically monitored easily.
3. Method: Determine a stepwise method/pathway to execute the action plan which can be easily remembered.
4. Execution: Execute the plan using the method systematically.
5. Result: Measure and verify if the goal is achieved.
6. Review and recycle: List lessons learned and incorporate for next cycle.
**The process step improvement/redesign sub-cycle (ESCAPE): (Use a swim-lane flow chart or value-stream map and examine each step as a team)
1. Eliminate the step, if the step is of no value to the customer (receiver of the output of process), if not
2. Simplify the step by reducing unnecessary complexity; if not adequate with respect to the goal,
3. Combine to put together more than one step to enable a single member to handle without hand-off or else,
4. Automate the step using devices or machine-learning algorithms, if the work has repetitive elements, or else,
5. Parallelise the step i.e, enable it to be performed simultaneously with another or more steps, which are mutually independent, and/or
6. Error-proof using devices or dialog-boxes to prevent unintended errors,
7. Review result achieved and recycle lessons learned until improvement desired is satisfactorily reached in a sustainable manner.
About the author: Professor Mitter Vedu, FCQI, is a Six Sigma Master Black Belt and has been associated with strategic quality for the past 50 years in Switzerland and India.
Quality World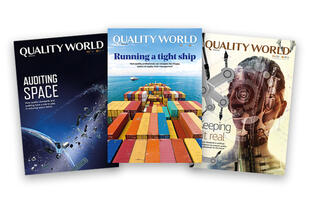 Get the latest news, interviews and features on quality in our industry leading magazine.