Emma Harrison, a woman of distinction in quality apprenticeship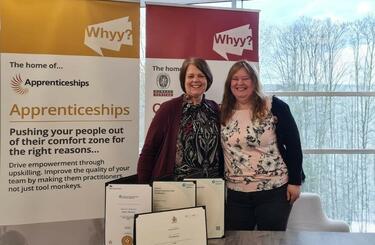 Published: 17 May 2023
Emma Harrison PCQI, the first person with a Distinction for her end-point assessment, shares her experiences of the Level 4 Quality Practitioner Apprenticeship.
Emma Harrison PCQI, became the first person to achieve a Distinction for her end-point assessment (EPA) for the Level 4 Quality Practitioner Apprenticeship in December 2021. Harrison, who was 46 when she embarked on the qualification, is Managing Director of the training provider Whyy? Change.
What was your career path leading up to where you are now?
After I had my daughter in 2000, I worked at the Royal Bank of Scotland Group as a customer service adviser and worked my way up to customer services manager. I was made redundant in 2009 after the financial crash, and went to work for a government outsourcing company for a council in London. It was quite repetitive and, as I wanted to do something more varied, I went to work for Close Brothers Motor Finance, overseeing the gap insurance sales for the customer service unit. I then moved into the business assurance team, looking at the processes that underpinned the wider company.
The role came up for Governance Officer at Whyy? Change in 2019, so I moved into the world of apprenticeships and training. It was a steep learning curve, as I'd never worked in the education sector before. I threw myself into learning about what good apprenticeships look like, understanding the Education and Skills Funding Agency requirements, getting to grips with the Ofsted requirements and, more importantly, the link with the customer. A positive customer relationship is key to delivering a quality provision for apprenticeships, giving a positive outcome for both learners and employers. I then became Governance Director in April 2021, and Managing Director in September 2022.
What was the impetus for you undertaking the Quality Practitioner apprenticeship yourself?
Ray Byrne, our CEO, is a lifelong learner himself, so it is a huge part of the culture here at Whyy? Change.
I saw the quality practitioner apprenticeship on the Institute for Apprenticeships' website when it was already in proposal. It was delayed by Covid-19, but I literally stalked the website until I saw it had been approved. Once I got the full list of what was involved – the knowledge, skills and behaviours that would be developed – I knew it was a good fit for me to take my knowledge and skills to the next level.
Fortunately, at that point, we were working with Lynda Holbrey CQP MCQI. Her passion and enthusiasm for the quality area of any business was so infectious I thought, 'I need to be part of that and learn from her'.
I was the first apprentice on the course, starting in January 2021, four months after the apprenticeship went live. I went through the final part of the process in December 2022 and passed with a Distinction.
"It's hard work, it's not easy, but I found it very rewarding. When I got the Distinction as well, it gave me a great sense of achievement. I was thrilled to get it."
What was the time commitment involved and how did you balance it alongside your job?
20% of my working time was spent working towards the apprenticeship, so one full day a week. All the teaching sessions were half a day a week face-to-face, so that counted as roughly half my off-the-job time.
I was also able to apply what I was learning throughout my apprenticeship. For example, when we learned about SWOT (strengths, weaknesses, opportunities, threats) and PESTLE (political, economic, social, technological, legal and environmental) analyses, I was able to apply those tools within the business, for example, during our annual reviews with accredited partners.
As I got further into the programme and was working on meatier projects, particularly for my EPA, I would take time away from the office – working from home if necessary – to work on things in more detail.
The programme follows a logical path of learning developed to make sure a person's knowledge is growing throughout the programme. Building and developing your skills and knowledge in this way sets you up for doing your work-based project for your EPA.
What form does the end-point assessment project take?
There are four areas on which you can focus as part of the EPA – money-saving and efficiencies, business process, change management or stakeholder management. I focused on developing business processes, specifically how to embed safeguarding more consistently across the learner platforms.
You have up to 22 weeks to finish the work-based project, complete a 4,000-word report and a presentation, and you have a live assessment too. It was a considerable amount of work, but very rewarding.
Does the course always take the same time, or can people take longer?
Every apprenticeship has to be a minimum of 12 months, that is mandated as part of a modern apprenticeship; the Quality Practitioner course has been designed over a 14-month period. At the end of that time, you would normally 'go through the gateway', where you are deemed occupationally competent as a Quality Practitioner and then work through your final assessments. Including the latter, the process takes between 18 and 19 months over all.
You are older than most 'traditional' apprentices – does this apprenticeship work for people of all ages?
I think so, yes. I did do coursework during my work time, but I also did extra reading during evenings and at weekends as the topics I was studying interested me. For me, it was more accessible at this stage in my life, because I have fewer personal commitments than when I was younger.
At the other end of the spectrum, one apprentice, who has just gone through the course, is 21. She did a business admin apprenticeship but then moved into more of a quality role. So even though she is quite young, her driver for starting the course was to know that if she did something it could have a positive effect on the outcome of the business.
What advice would you give to anyone considering the Quality Practitioner apprenticeship course?
During my apprenticeship, I had a couple of significant challenges: having to care for a loved one due to illness two months into the apprenticeship and I had surgery last year, so was off for a few weeks then as well. So, there were a couple of times where it would have been easy to say 'I'm going to stop', but I was determined that I wanted to do this for me and to see it through.
It's hard work, it's not easy, but I found it very rewarding. When I got the Distinction as well, it gave me a great sense of achievement. I was thrilled to get it.
Choose your course
View our portfolio of quality and auditing courses and choose the training that's right for you.
Quality Careers Hub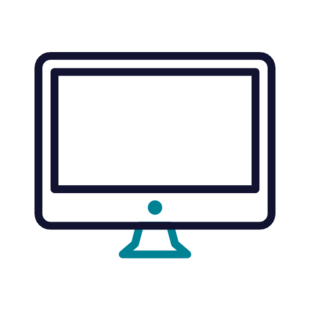 Exclusively for members, the CQI's Quality Careers Hub is designed for every career stage. So whether you're just starting out, ready to move on or up, or looking to build on your experience, there are many ways to progress.
Become a member
Take your quality career to the next level by becoming a member of the CQI or an IRCA Certificated Auditor.
Start your career in quality
Fantastic career opportunities await you in the quality profession.