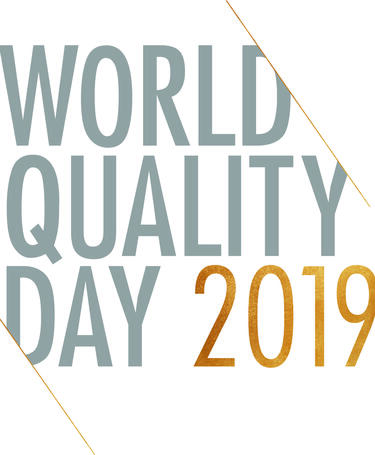 Thursday 14 November 2019
Theme: 100 years of quality
World Quality Day (#WQD19) is designed to recognise the contributions of quality professionals across the globe. It is your opportunity to celebrate the achievements of your team and organisation.
This year marks an exciting milestone – the CQI's centenary. We are proud to celebrate our compelling story and the lasting impact of the quality management discipline on advancing society in the last 100 years.
Fuelled by the desire to improve the production of unreliable munitions after the First World War, our original members established the Technical Inspection Association in 1919. One hundred years later, their passion for providing trusted products and services endures because of the outstanding work of quality professionals every day.
The quality profession has empowered organisations to succeed, regardless of their sector and across all geographies. Quality has made significant contributions to advancements in healthcare, manufacturing, construction, energy, defence and transportation.
We invite you to celebrate this legacy with us on World Quality Day.
What is World Quality Day?
Many individuals and organisations use World Quality Day as an opportunity to act as quality advocates. In 2018, thousands of individuals and organisations across the globe hosted activities around the theme of 'Quality: A question of trust'.
Help us make 2019 a success. By honouring the quality profession on 14 November 2019, you help to raise the profile of the brilliant work you do all year round, and highlight the positive impact of quality on organisations.
World Quality Day is celebrated annually on the second Thursday in November.
Past Themes
8 November 2018: Quality: A question of trust
9 November 2017: Celebrating everyday leadership
10 November 2016: Making Operational Governance Count
How will you celebrate World Quality Day 2019?
Celebrating a century of quality provides limitless opportunities to reflect on the significance of your work and our profession. Whatever you choose to focus on, we would love to hear about your plans to engage with your colleagues on World Quality Day.
Get involved in the digital buzz by using the hashtag #WQD19 on Twitter, LinkedIn or Facebook.
Future dates
12 November 2020
11 November 2021
10 November 2022
The CQI's centenary
Celebrate our 100th birthday with us! There are lots of ways to get involved. Start by visiting our centenary hub for ideas and event resources. Use the hashtag #CQIat100 on social media to share your plans and find out what others are doing.
View our World Quality Day 2019 toolkit
We have put together a toolkit to help you organise your activities celebrating World Quality Day.
What are you doing for World Quality Day 2020?
Let us know how you are celebrating World Quality Day 2020.