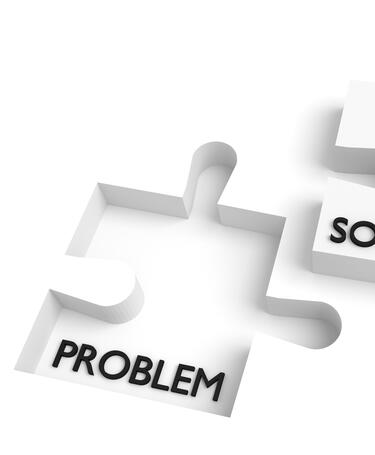 Selecting the right problem-solving strategy
Published: 8 Jun 2021
Derek Scott, CQP FCQI, Quality Manager at Rubberatkins, Scotland, takes a look at models and strategies for problem-solving.
Quality professionals are frequently required to engage in two areas that are as certain as death and taxes. The first is involvement in activities intended to result in continuous improvement, and the second is problem-solving.
There are numerous models, approaches, tools and techniques available to help quality professionals solve problems and implement continuous improvement across businesses. However, these can seem intimidating to the casual observer and quality professional alike, as they are often couched in their own special language, which serves to make certain concepts seem more obtuse than they actually are.
Ultimately, the idea for any of these models and strategies is simply to provide a framework, which when applied can offer a structured approach to solving business problems.
There are a multitude of systems available for use, but not all are appropriate in either their entirety, or even partially, when applied to a problem that is not appropriate for them. Systems that most quality professionals will be familiar with include Kaizen, Lean and Six Sigma. There are many others, such as the Shainin Red X approach, but as these are fairly niche and not necessarily well known, they will not be covered in this article. Tools and techniques that can be used in isolation to solve problems separate from the larger improvement model will also be briefly discussed in their potential application. Prior to deciding on what strategy or tool is best to apply, the problem itself must be considered with the following questions:
What is the nature of the problem you are seeking to solve
How big is problem perceived to be?
Do we know the cause-and-effect relationship for the problem?
What data do we have to provide context to the problem?
What form does that data take – is it continuous, or attribute data?
How urgent is the solution to the problem required?
Is the problem related to an existing process, or is the problem with the creation of a new process?
The following diagram will help to show a selection workflow: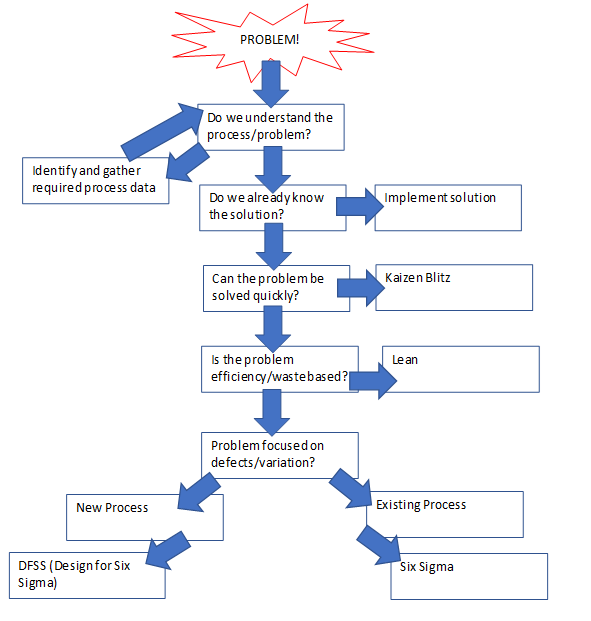 It should be kept in mind that the above is only a guide workflow. Many occurrences of routine problem-solving (cached above as 'implement solution'), such as a simple root cause tool like A3 or Ishikawa diagrams, will suffice in identifying the source of the issue. Once the root cause is identified, appropriate corrective/preventative action can be derived.
Additionally, some tools and techniques behove themselves to particular issues – for example, do you wish to identify the Critical to Quality (CTQ) requirements for the customer? Quality Function Deployment (QFD) should be on your list of ports to call. Do you wish to monitor the stability or reliability of a process and make predictions about future performance? Statistical Process Control and Process Capability calculations are the immediate weapons of choice here.
The overall narrative, however, is that there is no single 'one size fits all' approach to either problem-solving or continuous improvement – you should instead learn to adapt the tools of each approach you consider valid in your own business setting and then tailor them to the problem at hand.