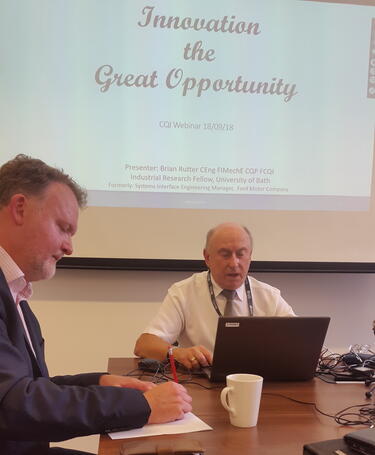 Innovation: the great opportunity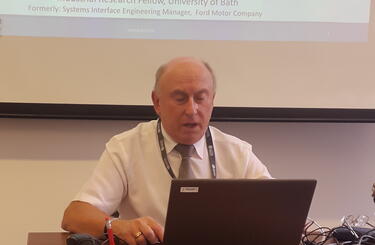 Published: 20 Sep 2018
The CQI's fifth Corporate Connect event of the year explored how human design thinking can encourage successful innovation.
The fifth Corporate Connect event of the year was delivered as a live webinar from the CQI's headquarters in London on 18 September. During the broadcast, Brian Rutter, CQP FCQI, Industrial Research Fellow, University of Bath (formerly Systems Interface Engineering Manager at Ford Motor Company), explored how the CQI's Competency Framework, interpersonal skills and the impact of ambiguity on management styles can support successful innovative teamwork.
In his 38 years with Ford Motor Company, Rutter undertook multiple assignments, including a sustainable global innovation process which comprises human-centred design, all aspects of innovation, system integration and interpersonal skills.
Rutter said this project required him to ask how interpersonal skills and innovation can merge to leverage the best from employees. He explained innovation as the implementation of a new or significantly improved product, service or process that creates value for business, government or society. "The key word is 'value'," he said. "Innovation is about bringing those value propositions to a business or society."
Using the Competency Framework, Rutter went on to explore how context, governance, assurance, improvement and leadership connect to innovation.
Key takeaways
Participants learned that engaging the full capability of teams and individuals and empathetic understanding of end users are the keys to successful innovation.
Neil Mellor, CQP FCQI, Group Quality Assurance Manager at NG Bailey said: "Brian really showed how the softer, relationship management and leadership skill set is vital to the successful achievement of rapid innovation. I never realised that having fun while doing your work was such a key part of the process."
Quality World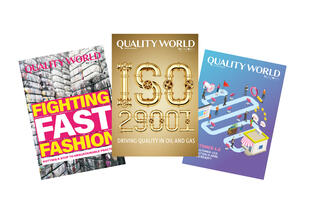 Get the latest news, interviews and features on quality in our industry leading magazine.