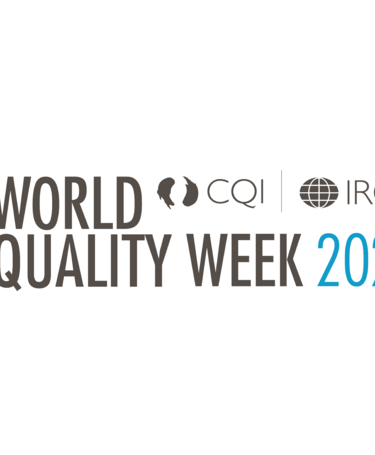 World Quality Week - 6 to 10 November 2023
Quality: realising your competitive potential 
Join the CQI in celebrating World Quality Week from 6-10 November 2023. This global campaign raises awareness of the quality management profession and focuses on the theme of realising your competitive potential.
The importance of a competitive edge
In today's complex and dynamic risk landscapes, maintaining a competitive advantage requires more than just operational resilience. Quality improvement principles and methods can help organisations quickly and effectively address inherent inefficiencies, allowing them to meet changing customer expectations faster, more economically, and sustainably than their competitors. Research from the UK construction consortium GIRI shows that avoidable errors in construction currently cost 21% of project value. By removing these inefficiencies throughout the economy, productivity, safety, and sustainability will all benefit.
Building your quality culture and capability
If you want to offer superior customer value, achieve productive processes, and deliver effective strategic change, you must develop quality culture and capability. Even small to medium-sized enterprises (SMEs) can access and implement quality principles and methods with ease, as demonstrated by Wilcox Limousines, the winner of the CQI's Quality Organisation of the Year award in 2022. While compliance and risk management remain fundamental, enhancing quality capability is about much more than meeting standards and audits.
Facilitating quality capability
Quality professionals are expert business partners who can help organisations build and develop quality capability throughout their value chains to compete and sustain. Talk to a quality professional to find out how they can help you with product and service design, process efficiency and effectiveness, strategic improvement delivery, and people engagement, skills and behaviours.
Top Tips
Working effectively with your quality professional is key. Here are some tips to get the most out of your partnership:
Preventing a problem is more effective than fixing it after it has occurred. Involve a quality professional in the beginning when designing value chains, products, and services to mitigate risks before they are realised and avoid reputational damage and financial waste.
Skills, tools and mindset – While quality professionals can provide valuable assistance with process assessments and problem-solving, it is the responsibility of functional leaders, process owners, and operators to deliver excellent products and processes using the right mindset and quality tools. Asking your expert quality practitioner to help develop your team's skills and knowledge will put you in control of improving performance and your journey to excellence. 
Think 'systems' – A quality professional will help you take a big picture 'systems thinking' view. Your quality professional can facilitate cross-functional collaboration in making workflow more effectively and efficiently.
Don't be shy - Reach out to your quality professional for advice and support. They are there to help you make your work better and ultimately create valuable outcomes for your customers and stakeholders.
About World Quality Week
Get ready to celebrate excellence in quality! World Quality Week takes place every November, and each year we choose a new theme that covers a range of important issues in the profession. We're on a mission to empower you with the tools and assets you need to champion quality, and we invite you to become a World Quality Week ambassador. Whether you're an individual, a team, or an entire company, you can join the global movement to raise awareness and promote best practices in quality. Let's make a difference together!
Let's use #WorldQualityWeek to highlight how quality and the quality profession can make society better